Day 6 (Tuesday, Dec. 7)
Arrival at Animal Kingdom Lodge
Watching animals from my room
Dinner at the Hollywood Brown Derby
Fantasmic
Long night's journey into Old Key West
Adventurers Club
(Click on any image to see a larger version of the photo. Click on links to see additional information or photos.)

Moving day! Today I changed my base of operations from Port Orleans Riverside to Animal Kingdom Lodge. I enjoyed PO a lot, but was very excited at the thought of staying at AKL again. (I was here for a few days last January.) I packed and called the bell desk to have my luggage transferred to AKL. I caught a ride back to the main building with the bellhop and got some breakfast at Riverside Mill.

A little after 11:00 a.m., I took a boat to Downtown Disney (for the last time this trip--sniff, sniff), then transferred to a bus for Animal Kingdom Lodge. As the boat entered Village Lake from the Sassagoula River, there were two swans directly in our path. The captain slowed the boat and prepared to stop, but the swans paddled off to the sides, so we were on our way again shortly.

A short bus trip, and I was at Animal Kingdom Lodge. If you're ever at Walt Disney World and you haven't seen this hotel, you must go there sometime for lunch or dinner so you'll have an excuse to visit it. Go during the day if at all possible so that you can see the animals on the savannas. It's just stunning.

AKL was designed by Denver-based architect Peter Dominick, the same person who created the Wilderness Lodge at WDW. He also designed the gorgeous Arts and Crafts style Grand Californian at Disney's California Adventure. You can read more about that hotel in the report from my Christmas 2005 Disneyland trip. I definitely like this man's work!

I had reserved a Water/Pool View room, but was hoping for an upgrade to a Savanna View because of it being early December and presumably not too crowded. When the check-in clerk didn't mention an upgrade, I came right out and asked about the possibility. She said she would check, but that the hotel was extremely full; only about 20 rooms (out of about 1,300 total in the hotel) were still empty for that night.

She also mentioned that the other WDW hotels were also running nearly at capacity, although she wasn't sure why, because the parks weren't all that crowded. (The youth football teams who were gathering at WDW this week would explain the full conditions at the value and moderate resorts, but probably not at the deluxes. I never did figure out why AKL and the other deluxe-category hotels were so full.)

The clerk went in the back office, returning to tell me that I could upgrade to a Savanna View room for an extra $10 a night. Given that I already had a substantial AP discount, my daily rate for a Savanna View even with the upgrade would only be about half the nominal value season rate for a Pool View room, so I eagerly accepted the offer.

Since it was only midday, I didn't expect my room to be ready yet, but it was. I checked with the bell desk to find out whether my luggage had arrived from PO-R; it hadn't, but they said it should be there shortly. So I went on up to my room. It was about 3/4 of the way down Kudu Trail (one of the wings of the horseshoe-shaped hotel), looking onto Sunset Savanna. I was on the second floor, very close to one of the patios with rocking chairs that look onto Arusha Savanna. I was also close to one of the hotel's two guest laundries--just what I needed after being away from home for several days. (The laundry near Simba's Cubhouse has a small window with a view of Uzima Savanna. Pretty cool! The laundry on Kudu Trail has no windows, but it's right near one of the viewing patios.)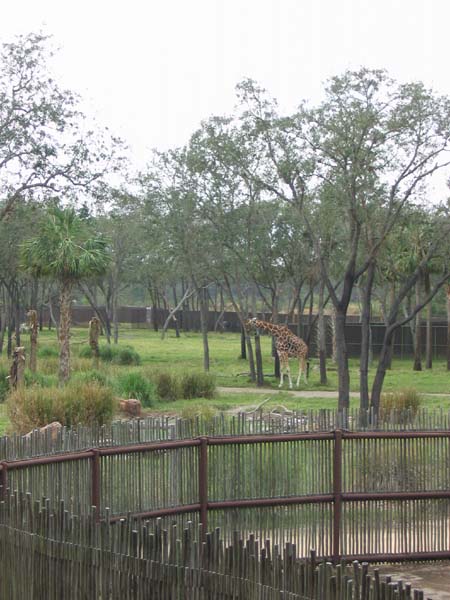 After exploring my immediate vicinity, I went out on my balcony and watched the animals for a while. I saw a couple of giraffes (I later saw four at once), three cute reddish-brown boars of some sort, a couple of Thompson's gazelles, some marabou storks, one or two bongos, and a couple of Ankole cattle.
My balcony looked toward some buildings at the back of the savanna, mostly hidden behind a fence. I saw animals disappear behind the fence near those buildings occasionally, so I assume it's the stables area for Sunset Savanna. (The animals aren't put in the stables at night, but I understand that they've been trained to come there occasionally so the staff can check them over.)
Unfortunately, the animals seem to like to hang out near those buildings, which are a few hundred feet away from my balcony. So except when they wandered up to some feeding areas about halfway between the hotel and the fence, the animals didn't spend much time near the hotel, which was frustrating.
After about half an hour of watching the savanna, I called bell services again. My bags had arrived, so a bellhop brought them up. I had been using the in-room wildlife guide to identify the animals I didn't recognize, but it didn't show anything like the boars I had seen. I asked the bellhop about them, and he said they were Red River hogs that had just arrived a couple of weeks ago.
This was the night that some friends and I had booked for the Fantasmic Dinner Package, starting with an early dinner at the Hollywood Brown Derby at 4:00 p.m. So after unpacking and watching the animals a bit more, I walked out to the AKL bus stop and caught a bus for the Disney-MGM Studios. Mindy and Debbie were already at the restaurant when I arrived, and we were seated within minutes.
The dinner package allowed us each to get an appetizer, entrée, dessert, and non-alcoholic beverage. The Derby's famous Cobb Salad counts as two appetizers, so Debbie and I got one and split it. For my entrée, I got the rack of lamb. And of course I had to get the restaurant's famous grapefruit cake for dessert. We were all very impressed with our meals, and agreed that we would gladly eat at the Brown Derby again on future WDW trips.
We finished dinner a little after 5:00 p.m., which left us lots of time before the reserved seating for Fantasmic opened, so we browsed the shops near the Studios entrance for a while. Then we got in line and walked through a backstage area to the seats reserved for dinner package participants. They're in the righthand part of the grandstand as you're facing the stage. We took seats about 2/3 of the way up, and had a great view of one of the water screens as well as the action on and in front of the island.
I was the only one in my group who had ever seen Fantasmic at Disneyland. I knew about certain differences between the two shows, so I had steeled myself for a certain amount of disappointment (namely, the absence of two very large and eye-catching props that I won't give away here), but there were some other omissions I hadn't anticipated that further weakened the show, in my opinion. Those were the Jungle Book and Pinocchio segments, which were replaced with a too-long Pocahontas segment and a tedious water-screen presentation of scenes from every movie Disney has ever made. Or at least it seemed like every movie.
Nonetheless, the basic Fantasmic storyline and the wonderful music and pyrotechnics are still intact at WDW. And the fire effects on the water were more impressive than those in California. (I'm guessing that because the theater in Florida was built especially for Fantasmic, the Disney engineers were able to put in more extensive gas lines here than in the pre-existing Rivers of America at Disneyland.) And having actual seating is arguably an improvement, although it does put you farther from the action.
After Fantasmic, I said goodnight to Debbie and Mindy (I believe they headed for the shops again :-)) and went to Downtown Disney to visit the Adventurers Club. Well, simply saying that I "went" doesn't fully convey the experience of getting there. When I discovered that there were no buses directly to DTD from the Studios, I decided to go via the resort that was on the most direct route between the two places. That was Old Key West. I had been through OKW on a couple of buses before tonight, and they had simply swung in the main entrance, stopped briefly at Hospitality House (the registration building), and then left again. I figured this bus would do the same.
So the theory was: quick trip to OKW, get off at main building, catch bus to DTD. I had no idea that the bus I was on from D-MGM to OKW was scheduled to make at least half a dozen stops within OKW. Or that the one going from OKW to DTD would do the same. Or that those of us trying to get to DTD would have to wait so long for the second bus to arrive after we finally got off the first one somewhere in the middle of OKW. Or that after the second bus finally did show up, it would go back to some of the same stops we had already visited on the first bus.
There were about five of us on the first bus who were trying to get to DTD; we all wound up making a lovely tour of OKW that lasted more than an hour. (Our unplanned tour wasn't even very interesting, since it was dark and we couldn't really see the resort, which is part of the Disney Vacation Club timeshare program.)
The entire trip from D-MGM to DTD ended up taking about an hour and 45 minutes. Luckily, we all kept good humor about it, making jokes about being trapped in OKW forever. (I believe the Kingston Trio's trapped-on-a-subway-train song "M.T.A." got mentioned at some point...) But despite our positive attitude, it definitely was a frustrating experience.
Long story short, I got to the AC quite a bit later than I had planned. I stayed for about an hour, enjoying the holiday radiothon and the Balderdash Cup. I then got a snack at D'Zertz and caught the bus back to AKL at about 10:30.