Day 4 (Sunday, Dec. 5)
Breakfast at the Kona Café
Benchmark hunting
Dinner at Jiko
The Adventurers Club
(Click on any image to see a larger version of the photo. Click on links to see additional information or photos.)



I had a wakeup call set for 8:15 this morning, but I woke up at 7:50 and cancelled it. I washed up and headed for the Polynesian via bus and monorail. The bus driver, Hector, led a Christmas singalong on the way from PO-R to the MK--one of those very Disneyish experiences. :-)

I got to the Poly well ahead of my 10:30 reservation at the Kona Café, so I had plenty of time to look at the beautiful gingerbread longhouse in the upstairs entryway. In addition to the longhouse itself, the display included Santa on a surfboard, a monorail with Christmas trim, and many other clever touches. (Not to mention the tiny Lilo and Stitch characters. Guess we couldn't avoid those at Disney World. :-)) I could smell the coconut that had been dyed green for the grass around the longhouse.

Fellow benchmark hunter Nick arrived to join me for breakfast at the Kona Café. Nick lives near Kennedy Space Center and has an Annual Pass, so he can visit WDW whenever he likes. He's been immensely helpful with my Disney benchmarks page. For breakfast, I tried the house specialty Tonga Toast, which is essentially French toast made from sourdough bread and stuffed with bananas. It was yummy, but I couldn't finish it all. I also had a glass of delicious fruit juice. The café calls it Lilikoi Juice, but it's really a combination of lilikoi (passion fruit), guava, and orange.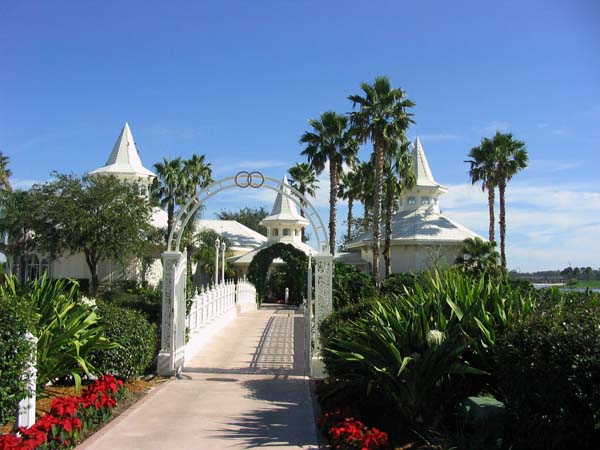 Nick and I finished breakfast a little after 11:30, then spent the afternoon on benchmark-related projects. First, we wandered around the Poly/GF area to check the sightlines between certain pairs of benchmarks. (Our friend Lloyd, who has a companion page to mine that shows the benchmark locations superimposed on aerial photos, has been trying to establish sightlines at both WDW and Disneyland.) I also got a closeup look at the Grand Floridian's wedding pavilion for the first time. It certainly is in a beautiful setting. Not only does the building itself have a view of Cinderella's castle at the Magic Kingdom, so does an elevated arbor outside in the adjoining gardens.
I had seen some possible benchmarks past the Grand Floridian when I was on the Yuletide Fantasy tour bus, so Nick and I got in his car and briefly went to check on those. But they turned out to be something related to the WDW water system.
We then headed over to Epcot, where our friend Jason had recently reported finding a new mark. Sure enough, we found it hidden under the railing along the edge of World Showcase Lagoon, near the Mexican ring carvers kiosk. So we took photos of it and logged its coordinates.
Nick and I also used our respective GPS receivers to take more readings on a couple of other Epcot benchmarks whose coordinates he wasn't positive about because they were in areas that made it hard to get good GPS reception. About 3:30 p.m., we got a snack at the Cantina de San Angel, which is very near the benchmark that Jason had alerted us to.
I then left Nick at Epcot and caught a bus back to PO-R, where I rested for a while before working my way to Animal Kingdom Lodge for dinner. While I was away for the day, my menagerie of towel animals had grown. It now included a cute little baby chick as well as the elephant and rabbit that showed up yesterday.
As my dinnertime approached, I took a boat from Port Orleans to Downtown Disney, then caught a bus to AKL. I love the trip down the Sassagoula River; it's so pretty and relaxing. I never fail to be amazed at how much of WDW is undeveloped. It's like a big wildlife preserve with some hotels and theme parks plopped down here and there. Being a native Californian and thus more accustomed to Disneyland than Disney World, the sheer size of the Florida complex is a bit overwhelming to me.
Dinner tonight was at Jiko. Although I'm moving over to Animal Kingdom Lodge on Tuesday, I wanted to eat at Jiko tonight as part of my research into dining solo at Walt Disney World. (The research is for an article on solo traveling I'm working on.) Starting tomorrow evening, I have dinner plans every night with various friends who are arriving at WDW soon, so tonight was my last solo dining opportunity.
Like the Flying Fish Café, Jiko has a chef's counter. However, Jiko is different in that the counter is at the preparation area for the flatbreads, salads, and appetizers rather than in front of the main kitchen. Because it isn't the main kitchen, there are no big noisy vent fans, so I was able to talk easily with the CMs working there. Incidentally, this area is called "The Cooking Place," which is the English translation of the Swahili "jiko."
Meli and Jeanette were working at the end of the counter where I was sitting, and they were making salads and appetizers. They're both from Puerto Rico, as is the young man who was at the other end of the kitchen. He was making flatbread in the stone ovens, which are heated by real wood that he kept replenishing. My server for the evening, Omar, is from Morocco.
One item that Meli and Jeanette made a lot of while I was there is an appetizer platter that isn't on the menu. It has a Beef Roll, a Duck and Pork Firecracker (basically a spring roll), a Lentil "Pastilla," and I think a Maize "Tamale," each with an appropriate sauce. (Jiko uses a lot of quotation marks on its menu, I think because they have taken certain dishes that are traditional in one part of the globe and modified them with African ingredients. Hence they aren't traditional tamales, etc., and the menu reflects that.)
Again, I ordered off the appetizer menu. (Not having access to cooking facilities to reheat food, there was no percentage in ordering more than I could eat at one time during my WDW visit.) The Roasted Butternut Squash Soup was thinner than I had expected, but very good. The Cucumber, Tomato, and Red Onion Salad also had arugula and an innovative watermelon vinaigrette. The Lamb "Patis" featured lamb rolled in phyllo with a mint-cilantro chutney. I also had some naan bread with tandoori (curry) butter.
Jiko has the largest selection of South African wines of any restaurant in the U.S., so I took advantage of that and got a glass of Rudera shiraz. Somehow I even had room for most of a Jiko "Napoleon," which consists of sorbet and frozen yogurt with citrus fruits. All in all, a delicious meal in a beautiful setting, and with very friendly staff.
I noticed at one point that Jeanette was checking and recording the temperature of the sauces and ingredients used in The Cooking Place. She told me they have to check the temperatures every four hours for safety reasons. She also said that the three people in The Cooking Place go through five or six boxes of latex gloves every night! That's because they're constantly putting on new ones as they handle meat, then vegetables, then meat again, etc. etc.
I finished dinner about 7:30 and went out to Arusha Rock for a few minutes to chat with the cultural representatives and look through their night-vision binoculars at the animals on the main savanna. Then I took a bus from AKL to Downtown Disney; driver Mack kept us amused with bad jokes and a singalong.
I went to DTD not only because I needed a transfer point in order to get from Animal Kingdom Lodge to Port Orleans (Disney doesn't run buses directly between hotels), but also because I was headed for one of my favorite places at Walt Disney World: the Adventurers Club on Pleasure Island. The partly scripted/partly improv shows at this 1930's-style world travelers' society are just delightful. It's an only-at-Disney experience you must try. Kungaloosh!
After watching a few of the shows at the AC, I headed back to my hotel. Donald, the CM who piloted our boat from Downtown Disney to Port Orleans, is an experienced birdwatcher, and told us about the egrets (I think that's what he said) that spend the winter roosting in the trees between Cap'n Jack's restaurant and Saratoga Springs. He also pointed out the night-blooming jasmine along the Sassagoula River, whose fragrance was filling the air just before we pulled into the dock at the French Quarter. As I mentioned before, the boat trip from DTD to Port Orleans is wonderful, and I urge everyone to do it at least once--or preferably, once in daylight and once at night to get two different experiences.