Day 3 (Saturday, Dec. 4)
Yuletide Fantasy Tour
Lunch at Le Cellier
A relaxed evening
(Click on any image to see a larger version of the photo. Click on links to see additional information or photos.)



My second full day at Walt Disney World, and time for the Yuletide Fantasy Tour. We would learn the history of some holiday traditions that are celebrated at this time of the year, then see how WDW is decorated to celebrate those holidays, and how those decorations are created.

The tour attendees and guides gathered outside the main entrance of Epcot just before 9:00 a.m. We were then led backstage (Disney terminology for the non-public areas), where we boarded a bus that drove us to World Showcase, which wasn't open to the public for the morning yet.

We came back onstage near the German pavilion and were given, at the appropriate pavilions, information about the traditions of Christmas in Germany and Italy, Hanukkah and Kwanzaa in the U.S., New Year's in Japan (hence the chrysanthemum garlands in the photo), and Ramadan in Morocco. We went inside the American Adventure building to see its Hanukkah and Kwanzaa displays, but otherwise, we were outdoors.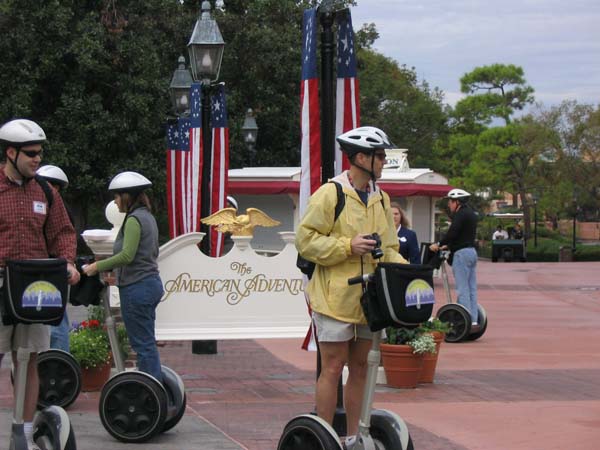 At each pavilion, the tour leaders discussed how the decorations reflected the holiday traditions of that country. For example, even though both Germany and Italy celebrate Christmas, their decorations are very different. These differences were represented at Disney World by natural-world decorations such as evergreen garlands and apples at the German pavilion, in contrast to richly colored golden fabric decorations at the Italian pavilion. (Of course, the Morocco pavilion was not decorated. And we were told that decorations are not considered appropriate during Ramadan, so it isn't decorated then, either.)
The Around the World at Epcot Tour participants went by us a few times on their Segway Human Transporters. It was fun to see them wheel through World Showcase and zig-zag around columns and other "obstacles."
We then got back on the bus (which had moved behind the Moroccan pavilion to meet us) and drove over to Disney-MGM Studios. We parked backstage and walked onstage near the Tower of Terror. Our guides discussed how the decorations at this park reflect the glitz of the golden era of Hollywood. We also walked through the Streets of America area, although of course the Osborne Lights weren't on during the day.
Then it was on to the Grand Floridian, where the big holiday attraction is the life-sized gingerbread house. We had about 15-20 minutes on our own to see the house. I hadn't realized that there would be a CM in the house selling gingerbread through a window. The whole thing is very impressive, with many beautiful details such as sugar poinsettias. Outside the hotel, there were also some pretty twig deer grazing in a field of red poinsettias. At night, they had small white lights on them.
Our next stop was the Magic Kingdom. Again, the bus parked and let us off backstage. We came onstage partway down Main Street. The MK Christmas parade was being filmed that weekend for a Christmas Day airing on ABC. We saw one short segment of the broadcast being filmed, which included some actors from ABC shows walking down Main Street. Some of the people in my tour group recognized the actors, but I didn't know any of them.
Our final stop was the Holiday Services building, which is near the bus/monorail barn. This is where a staff of only 25 people designs (and sometimes creates by hand) the decorations for all of Walt Disney World (parks, hotels, employee areas, etc.) as well as the two cruise ships based near Orlando, the Hilton Head and Vero Beach resorts, and Castaway Cay, the private Caribbean island that Disney Cruise Line ships visit. Wow, that's a lot of acreage to decorate!
The Holiday Services folks work in a large warehouse, but there's also a fleet of more than 150 semi-trailers that hold the decorations and are parked elsewhere at WDW. The huge trees seen at some of the parks and hotels used to be made of several normal-sized real trees tied together, but they've now switched to artificial trees, which of course can be reused without chopping down a bunch of real trees each year.
Each set of decorations (such as for a certain hotel) is designed to last about five years. There's a 2-3 year lead time for changeovers, because of the time needed to design, then purchase or make, new decorations for a location.
Somewhere along the line, one of our tour guides mentioned that WDW uses about 62,000 poinsettias every Christmas. Some are individual plants, some are made into large balls, and some are used for poinsettia "trees" at Disney-MGM Studios and other locations.
The bus then returned us to Epcot, where we each received a commemorative Mickey-shaped Christmas ornament and Yuletide Fantasy pin. The tour was supposed to last about 3 to 3.5 hours, but it actually lasted nearly 4.5. No one was complaining, because we had gotten an excellent tour.
However, I had scheduled a 1:30 lunch at Le Cellier at the Canada pavilion, thinking that I would be back at Epcot well before that. Although I walked quickly from the Epcot main entrance to World Showcase, I was about 10 minutes late. But the people at Le Cellier were very nice and got me a table within 10 minutes.
My server was Robby, from Saskatoon, Saskatchewan. This was actually his last day at WDW, because he was in the International Program and was about to return home.
Rather than ordering an entrée, I had the Mixed Field Greens salad (which was very big) and the Canadian Cheddar Cheese Soup I had read so many raves about. Both were very tasty. They came with three breadsticks (sourdough, pretzel, and multigrain) representing the grains of the Canadian prairies.
I also decided to try a glass of ice wine, since Canada is one of the few countries that produces it and I had never tried it. I'm not very knowledgeable about wines, so I asked Rob whether I would really be able to tell the difference from normal wine. (At $12.25 for a 3-oz., glass, I wanted to make sure it would be worth it!) He assured me that I would find it distinctive, so I ordered a glass. I asked for his recommendation on when to have it, and he suggested it as a dessert wine, so that's what I did. In fact, the Inniskillin ice wine is on Le Cellier's dessert menu. I liked it a lot; it was sweet and fruity, reminding me of plum wine (including the golden color). I imagine that some people find it too sweet, but since I'm not a big wine fan, I prefer the ones that don't taste like normal wines. :-)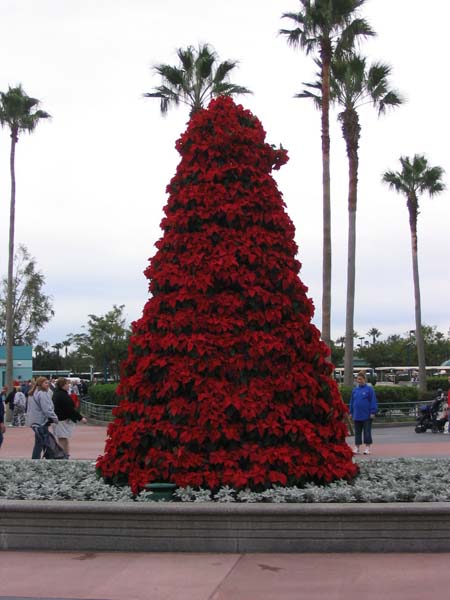 By now it was about 3 o'clock. I had originally thought about spending some time after lunch listening to some of the holiday storytellers at Epcot, but being tired from the long tour (and maybe a bit relaxed from the ice wine), I decided to head directly back to my hotel. Or as directly back as I could. Since I was near the International Gateway, I didn't feel like walking all the way back to the front of Epcot to catch a Port Orleans bus. Instead, I hopped on a boat to the Studios and made the short walk from the boat dock to the hotel bus stops there, stopping briefly to admire the Christmas tree made entirely of poinsettia plants.
A charming surprise greeted me when I entered my room at Port Orleans. There was a towel elephant on the heater/cooler, and a towel rabbit on one of the beds. I hadn't realized that the towel artists at Walt Disney World could add stickers to the animals, including little eyes. That certainly helps them create the look they want. There were also some pretty washcloth and towel arrangements in the bathroom.
I was supposed to have dinner at Artist Point tonight, but was too tired to do the multiple bus trips required to get to the Wilderness Lodge, so I cancelled my PS. After resting for a while, I walked over to the Riverside Mill and got a Split Roasted Chicken dinner and a Mickey-shaped ice cream bar. I also filled my PO-R mug with hot cocoa, took it back to my room, and added a bit of amaretto that I had brought on the trip for just that purpose. (Kahlua goes great with cocoa, too.) As I sipped my cocoa, I checked my email, then went to bed and read Deception Point until about 11:00 p.m.