Day 1 (Thursday, Dec. 2)
San Jose to Orlando
Port Orleans Riverside
Dinner at Boatwright's
Nighttime on the Sassagoula River
(Click on any image to see a larger version of the photo. Click on links to see additional information or photos.)



My radio was set to come on at 4:00 a.m. PST, but I woke up at 3:21 and of course couldn't get back to sleep. :-( I lay there dozing until the radio came on. This is one of the few times I've ever heard the live East Coast feed of "Morning Edition"! I finally dragged myself out of bed at 4:15, got dressed, and put the last few items in my luggage--with a little "help" from my cat, Portia.

Therein followed my attempts to fend off Portia while I put the luggage out on the front porch. She was now wide awake and running madly through the house, which meant that she was primed to run through an open door. But I managed to get the luggage outside without her escaping. The taxi arrived a few minutes after 5:00. I said goodbye to Portia and left the house.

My San Jose to Dallas-Fort Worth flight was scheduled for 6:25 a.m.; we actually went wheels up about 6:40. I thought we would be the first plane of the morning to take off from SJC (it's closed from 11:30 p.m. to 6:30 a.m. daily), but another plane beat us to it.

I saw my house shortly after takeoff, then the telescope domes at Lick Observatory on Mount Hamilton. There was quite a bit of interesting scenery during the flight: the southern Sierra Nevada, Edwards Air Force Base (where I've seen four space shuttle landings), the Colorado River, the Grand Canyon, Berringer Meteor Crater, the Springerville, Arizona solar power station (nearly 35,000 panels!), and various cinder domes and lava flows.

I had cashed in all my accumulated air miles so that I could fly first class, so I had a comfy seat, lots of leg room, and tasty meals, such as the cheese and egg quesadilla with fresh fruit and a fluffy buttermilk biscuit on the first leg of my flight.

After breakfast, I read and dozed until we landed at DFW at about 11:40 a.m. CST. Because of my earlier than originally planned departure from San Jose, I had nearly two hours until it was time to board my next flight. I bought some soft-serve frozen yogurt, a cookie, and a copy of Dan Brown's Deception Point (the only one of his books I haven't read yet). Oh, and a Kahlua chocolate bar from a TexMex mercado cleverly named "South of Gate C6," where they were playing mariachi Christmas music.

The plane for my DFW-MCO flight was late arriving from wherever it came from, so we were about 10-15 minutes late leaving Dallas. But we made up time and actually arrived in Orlando about 10 minutes early. I noticed the Kennedy Space Center shop just before I headed down the escalator to the baggage claim area, and decided to get a souvenir pin there. I wasn't going to KSC on this trip, but I've been there a couple of times in the past to watch shuttle launches, so now that I'm doing the pin thing, I thought it would be appropriate to get one from KSC.

There was a bit of a wait for both of my checked bags to show up (how do two pieces that go into the system right next to each other get separated so much, anyway?). Then I had to hike about a quarter mile (well, it seemed that far, anyway) to the Alamo rental counter, which was the farthest one from the baggage carousels. We did the paperwork and they sent me across the street to the garage to get my car.

I had ordered a compact, but when I got to the garage, they were out of those and offered to upgrade me free to a full-size car. I don't like big cars, so I asked whether there were any mid-sizes. The attendant went looking and found one for me. Turns out I could have had a stylish PT Cruiser, of which there were several in the full-size part of the garage, but I was happier with the mid-size.

I finally left MCO at about 6:30 p.m. I managed to get lost in the construction on I-4, overshot WDW, and had to double back, so I didn't get to Port Orleans Riverside until about 7:30.

I was lucky I arrived when I did, because there were only a couple of check-in clerks on duty, and the line got a lot longer while I was checking in. The CM at the check-in counter didn't know whether I needed to activate my Annual Pass right away in order to take advantage of the AP discount on my lodging reservation, so she went off to ask someone about it. ("CM" means cast member, Disney terminology for an employee.) As I expected, she returned to say that I didn't have to activate my AP before checking in. In fact, they never did ask me to verify my AP status at Port Orleans.
I was assigned to room 2452 in Alligator Bayou, which overlooked one of the quiet pools. (Although certain parents don't seem to think the "quiet" part applies to their little darlings even after midnight.) I had wanted a river view, but the clerk said there wasn't a room like that available for all of the five nights I was staying. I found out later that there were hundreds of junior football players coming in over the next several days, so the hotel was very full.
While I was checking in, the CM handed me an envelope containing the itinerary for our Magical Gatherings group (a way that WDW offers for people to coordinate their get-togethers). This one was only slightly more accurate than the one I'd received in the mail a couple of weeks before my trip, which showed almost none of my Priority Seating requests. Luckily, after nearly having heart failure when that one arrived, I had called Magical Gatherings and verified that all my PSs were intact. The check-in lady pulled up my records on her computer and again verified that there were many more PSs than shown on the printout. She offered to print them all for me (one at a time), but I just wanted to get to my room.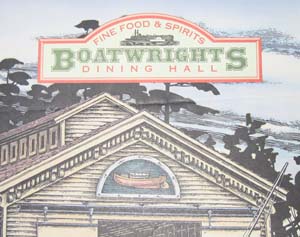 I had a reservation for dinner at Boma that evening, but by the time I got to PO-R, I would have had to rush over to Animal Kingdom Lodge to make my appointed time, and I didn't feel like doing that. In fact, after traveling all day, I didn't feel like leaving Port Orleans at all. So I cancelled that PS and made one for Boatwright's, the Southern-style restaurant right at Riverside. After settling into my room, I walked down the lovely pathways through the bayou to the main complex.
At Boatwright's, I ordered off the appetizers menu, getting the house salad, French onion soup, and crabcakes, plus a glass of Gamay. The piano player in the nearby lounge was leading the bar's patrons in sing-alongs of everything from "When the Saints Come Marching In" to "The Twelve Days of Christmas." They sounded like they were having fun, but I was tired and getting a little headachy, so I was happy to finish my meal and go back outside where it was quieter.
By this time it was nearly 10:00 p.m. I had planned to walk straight back to my room, but as I left the restaurant, I saw a boat pull up at the dock, so I decided to take the short ride down the Sassagoula River to the French Quarter and back. There was cool jazz Christmas music playing on the speakers in the boat, so the trip was both relaxing and seasonal.
As the boat puttered down the river, we went past a number of people walking along the riverside trail between the two parts of Port Orleans. One of the horse-drawn carriages you can rent for a ride also went by; the horse's harness even had battery-powered Christmas lights on it, which was a delightful touch. As we pulled into PO-FQ, I saw the searchlights of Pleasure Island in the distance, sweeping above the trees through the constellation of Orion.
I got off the boat and walked back upstream a couple hundred feet to a small gazebo looking over the river. I sat there watching the stars and the river for about 10 minutes, then walked back to the dock and caught the next boat going back upstream to Riverside. I made a brief stop at the Cotton Mill food court to get some bottled water and a refillable mug, which I promptly filled with hot cocoa. (I knew I could keep the bottled water cold because I had already spotted the small refrigerator in my room. Obviously the rollout of free fridges in the moderate and deluxe resorts has now reached Building 24 at PO-R.)
I started walking back to my room and had just turned away from the river when a maid driving by in an electric cart offered me a ride. When I told her my room number, she said that was one of her rooms. I saw a towel animal on the dashboard of her cart and mentioned that I'd been disappointed not to get any towel animals when I stayed at AKL in January. I know they aren't an official benefit of staying at a Disney hotel, but I'd heard a lot about them and had been looking forward to getting at least one during my stay. Well, my hint had great effect, as you'll see in my photos from the next few days!
Even though it was still early evening in California, I was tired from traveling all day, so I read for just a while and went to bed about midnight. Not long after I turned out the light, a clueless family showed up at the "quiet" pool. The little boy kept talking loudly to his father, who was elsewhere in the pool, and to his mother, who was sitting at the edge of the pool. I was just about to call the front desk when they finally left.