Pre-planning
An Unexpected Invitation
Why I decided to go to Florida
No room at the inn?
Ticket turmoil
(Click on any photo to see a larger version. Click on links to see additional information or photos.)


A couple of years ago, I started seeing mentions on Usenet newsgroups, Geocaching.com bulletin boards, and World Wide Web sites of survey marks at Walt Disney World and Disneyland. Having gotten interested in amateur benchmark hunting myself, and already being a Disney fan, the combination of the two hobbies appealed to me, and I decided that it would be helpful to have all that information in one place. So I created my Disney benchmarks page. Over the past couple of years, with a great deal of help from people who live in the Anaheim and Orlando areas plus other occasional Disney visitors like myself, we've managed to catalog more than 90 benchmarks.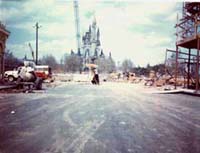 (Photo courtesy John Hohol)

In early April, 2006, I received an email message from John Hohol, who for many years worked for the country's largest manufacturer of survey marks, Berntsen International. John said he enjoyed my web site, and he even sent along a couple of great photos relating to surveying at Walt Disney World. The one shown here is of a surveyor working on Main Street some months before the Magic Kingdom first opened. Even better than the nice words and the photos was that John invited me to attend a presentation by the current and past chief surveyors of WDW! It turned out that he's the chair of the conference planning committee of the American Congress on Surveying and Mapping. It was he who had arranged for the WDW folks to speak at the upcoming ACSM meeting in Orlando, so he was in a position to invite me, too. Disney World, benchmarks...I didn't need to be asked twice! I quickly began looking at my calendar and my checkbook to determine whether I could afford to spend a week at Walt Disney World. (You didn't think I was going to fly clear across the country for a two-hour talk within a stone's throw of WDW and then turn around and come home, did you? :-) ) Because I'm self-employed, I have a great deal of flexibility in my schedule. Work was kind of light at the time anyway, so I determined that I could make my deadlines and still play hooky for a week. As for the checkbook...well, credit cards are for emergencies, right? :-) I went to the Disney website and discovered that the only on-site places with available rooms for the nights I needed were Saratoga Springs and Fort Wilderness. That was weird, considering that I was going the week after Easter, when WDW visitation should have dropped off. So I got on the phone to WDW reservations. Sure enough, those were the only two options they had. However, the agent was able to offer me a room at one of the non-Disney hotels (the Grosvenor Inn) at Downtown Disney. I decided to reserve that to be safe, and hope for a Disney hotel later. Then I got the idea of checking on whether the California State Automobile Association (the AAA affiliate here in the Golden State) might be able to get me an on-site hotel. So I called the travel department at the nearest CSAA office, and the nice agent I talked with (Yvonne) said the only other thing she had available was a Savanna View room at Animal Kingdom Lodge. Would I be interested in that? Woohoo--I sure would! AKL happens to be my favorite resort at WDW. (You can see photos of the hotel from my previous trips by going to my main WDW page.) It was going to be pricey, but hey, I had to stay somewhere, right? :-) That evening, I went to the American Airlines website to reserve a plane flight. I had some flexibility in my schedule, but wanted to get into town at least a couple of days before the presentation on Tuesday, April 25th. So I played around with some dates to see what airfares were available, and decided on a Saturday-to-Saturday trip. I called Yvonne back the next morning and tweaked the dates of my hotel reservation to match my flight days. It turned out that my first night was going to be in the WDW hotels' Peak rate season (the second highest rates of the year), whereas the remaining nights were in Regular season. Normally, WDW charges you the same rate for your entire stay. That's great if you arrive just before a change to a higher rate, but not so great if you arrive before a rate cut. Luckily, Yvonne was on top of the situation and made two different reservations for me: one for the first night at the Peak rate, and another for the remaining six nights at the Regular rate. (The rack rates for a Savanna View room are currently $380 Peak and $330 Regular, but I got an AAA discount.) After that flurry of activity with hotels and flights, I set aside the issue of theme-park tickets for a few days. Since my last trip to WDW in December, 2004, Disney had instituted an entirely new ticket-pricing structure. So I had to figure out how many days' worth of park admissions I wanted, whether I wanted expiring or non-expiring tickets, how many non-theme-park admissions (e.g. to the water parks and Pleasure Island clubs) I wanted, etc. etc. It was all quite confusing. It's very odd that for a number of days, I didn't consider the one possibility that I'd used on my last visit: a WDW Premium Annual Pass. I knew that not only had the new tickets made annual passes less economically beneficial for week-long visits, but also, the hotel discounts available to AP holders were not nearly as substantial now. So I stupidly didn't even check into those discounts until days later. Luckily, I came to my senses in time. :-) Thanks to the very helpful Mousesavers website, I found out that as of April 23 (the night of my arrival!), WDW was offering $100/night off on rooms at their Deluxe resorts (of which Animal Kingdom Lodge is one). That means I could buy a Premium Annual Pass for a little under $575 and immediately save $700 on my lodging during the trip! At least, I could if there were rooms available at the AP rate at AKL for the nights I wanted. So I called Yvonne again, and she confirmed that AP rooms were available. She changed my reservation and ordered me a PAP. (You don't need to have the AP at the time you make the reservation; just when you check in.) Now that all the major elements (transportation, lodging, and park admissions) were sorted out, I took a few minutes to call WDW again and make some dining reservations. There were a few restaurants on my "to do" list that I hadn't gotten to on previous WDW visits, so I scheduled a lunch at Restaurant Marrakesh at the Moroccan pavilion at Epcot, and dinners at Boma at Animal Kingdom Lodge (I'd eaten breakfast there a couple of times, but kept managing to miss the dinner buffet!), and Artist Point at Wilderness Lodge. All that was left for me to do was count down the days until I left for Florida!