Day 4 (Tuesday, April 25)
Surveying the World--and Everest at Last!
American Congress on Surveying and Mapping conference session
Hunting for benchmarks and yetis at Animal Kingdom
Boma again (twice is never too much!)
Stories from Africa
(Click on any photo to see a larger version. Click on links to see additional information or photos.)


I had set the alarm for 7:45, but woke up about 5:30 and again a little after 7:00. Jet lag, strange room, whatever...it's frustrating. I never really got back to sleep the second time, so I listened to the radio for a while after it came on, occasionally looking out the window to see who was on the savanna. Around 8:00 a.m., I got out of bed far enough to pick up my camera and take some photos of the zebras and giraffes. I meandered downstairs at about 8:45, and before getting something to eat, I wandered out to the Arusha Rock overlook and asked one of the cultural representatives (this one from Botswana) about a pair of ducks I'd been seeing near my room. She said they were called "common shelducks." So they were indeed introduced animals, not a couple of Florida locals who'd found this really nice savanna to hang out on! She also mentioned that there was a 5-month-old giraffe over on Uzima Savanna, so I made a mental note to look for her later. The cultural rep said that in the mornings and evenings, the giraffes on Arusha Savanna often go over to the fence that divides them from Uzima Savanna to see the little one. Isn't that sweet? After downing some cereal at The Mara, I went out to the porte cochere, where my friend Nick arrived to pick me up at about 9:10. Today was the day of the Disney surveyors' presentation at the surveyors' conference--the big event of this trip! We were at the Caribe Royale and in the meeting room by 9:30. We had a great time! These guys really have stories to tell--many of them involving alligators and cottonmouth snakes (ugh!). Luckily, no one has ever actually been attacked by either of those creatures while surveying at WDW, but there were some pretty scary photos of very large dead cottonmouths. Even aside from the wildlife threats, just think about how grueling it would be to survey 47 square miles of hot, humid swampland. The people who made the initial surveys of WDW did some amazing work under very difficult conditions. If you like, you can read my report on the presentation. Nick and I were fortunate enough to have lunch with John and the Disney surveyors after the meeting. We were able to get a lot of our pent-up questions answered. For example, yes, the top of Cinderella Castle is an intersection station, although they haven't needed to use it for a long time. (An intersection station is a tall point such as a flagpole or a church steeple which is not suited to the placement of a benchmark, but whose location can be determined by making observations of it from nearby known locations.) After we finished lunch, Nick dropped me off at Animal Kingdom Lodge and drove back to his room at Pop Century. John had mentioned seeing a benchmark in Animal Kingdom--the first one we'd heard about that was actually inside the park. So Nick and I decided to meet back there later and look for it. There was also the matter of the unfinished business between me and a certain yeti! I was hoping that Expedition Everest would be running and I could finally go on it. I dawdled a bit too much in my room, wanting to back up all the photos I'd taken that morning. So by the time I did that and changed from my "business casual" conference clothes to something more appropriate for a train ride in the Himalayas, I didn't get to the bus stop at Animal Kingdom Lodge until 2:25--only 20 minutes before the time I had agreed to meet up with Nick at the Oasis. Wouldn't you know that the bus didn't arrive until 2:50! Luckily, it's a quick trip to Disney's Animal Kingdom from AKL, so I was only 15 minutes late. Also luckily, Nick had been a little bit late arriving himself, so everything was okay. While waiting for me, he looked along part of the path where John had reported seeing the benchmark. We gave a thorough search along this particular trail to Discovery Island, but didn't find the benchmark. Oh well, on to Asia for another try at Expedition Everest. Drat, it was down again! We asked a CM how long the ride had stopped yesterday, and he said the morning breakdown (the one we encountered) had lasted 40 minutes. He mentioned another stoppage in the afternoon, but I didn't ask how long that one had lasted. Since there was no telling how long this latest interruption would last, we decided to check out other activities in Asia, staying close enough to the village of Serka Zong to check the status of Expedition Everest every so often. We checked Kali River Rapids, but it had a 60-minute wait. Nick had just done the Maharajah Jungle Trek on Monday (before I arrived), but he was willing to take a quick jaunt through it so that I could see the tigers. Turned out we only saw one; dunno where the others were. Then it was back to Serka Zong to see what was happening with Expedition Everest. Aha--the trains were running again! I had intended to try the single-rider line, but they weren't offering one at the moment due to the backup of riders in the standby and FastPass lines. I had heard a CM announce while the ride was down earlier that today's FastPasses would be honored all the rest of the day (that's often the case unofficially anyway, even though the passes themselves have cutoff times on them), so when I discovered that there was no single-rider option available, I asked whether it might be possible to use my FastPass from yesterday, which, like today's guests, I'd hadn't been able to use because the ride wasn't operating. A nice CM near the entrance called back to a more senior CM inside the attraction, and was told that that would be fine. So I was finally able to get in line for the ride! I entered the line at 4:00 and was out by 4:15. I would call Expedition Everest the big brother of Big Thunder Mountain Railroad. I read one description of it as "Big Thunder on steroids." I'm pretty much of a coaster wimp (Space Mountain is where I draw the line; actually, I've drawn it just below Space Mountain for some years now), but this one was fine. There are definitely some scream-worthy sections, including about half a minute during which the train goes backwards! And the yeti (the biggest Audio-Animatronic figure ever built) is really fun. When I realized partway through the ride that I closed my eyes through one of the dark parts, I was afraid I might have missed him. But luckily, I hadn't! He showed up just moments later, big as life. Having now survived an encounter with the yeti, I went into the gift shop to buy an Expedition Everest t-shirt and pin. I discovered that I had been looking down when the ride photo was taken, so I decided not to buy it this time. I got some information from a CM on where during the ride the photo occurs, so I can look more lively next time. I took a few more photos of the Serka Zong area before leaving Everest for now. You might want to see my page of Serka Zong photos. Nick decided to head back to his hotel and start packing, as he'll have to be up early to get back to KSC in time for work tomorrow morning. I chose to stay at the park, and headed over to Kali River Rapids. The sign said there was a 20-minute wait, but it was actually a walk-on. (Although it takes a few minutes to go through the long--and very pretty--queue area.) I could have gotten right back in line after coming off the raft (some people were doing exactly that), but I was soaked, and figured I'd better start figuring out how to dry off so I could get on a bus! So getting even wetter didn't seem like a good idea at this point! Last time I was here, I put on waterproof pants and a poncho before braving the rapids. I had brought those clothes with me to Florida again, but they were back at the hotel, as I had not considered the possibility of riding KRR in what was going to be a short trip to DAK. I sat on a stone bench that was in the direct sun for a little while, working on my trip report notes and hoping that the warm rock would dry my pants faster. It worked well enough that I was able to leave the park about 15 minutes later. I had planned to stand up on the bus to avoid getting any dampness on the seats, but it turned out that I didn't have the choice of sitting down in any event, because the park was closing and the buses were getting full. I got back to Animal Kingdom Lodge about 5:35 and decided to check on the possibility of eating at Boma . The CM at the desk said she could find me a table in about 10 minutes; otherwise I'd have to wait until 9:00 p.m. I took her up on her offer and she handed me a pager. I ran upstairs, quickly dried off and changed my clothes, and strode back down the hallway toward the lobby. The pager went off just as I got to the Victoria Falls bar above Boma. Here's a summary of what I ate this time. As before, I took only very small portions of each item.
Salads: African fruit fool (apples, grapes, pineapple, and I think a bit of coconut; coincidentally, I just made a fool for a St. Patrick's Day dinner last month); calamari salad (it included something spicy that kicked in several seconds after I ate it); and pasta salad.
Soups: Gold Coast crab soup (I think it had some caraway seeds); sausage and vegetable soup (the veggies were mostly zucchini and yellow squash; I didn't care for it much, although not because of those); and butternut squash soup (a Boma specialty--deliciously creamy and sweet).
Entrees and side dishes: Potatoes with Afritude (spicy roasted potato wedges); roasted vegetables (zucchini, onion, etc.); Druban whole chicken (that's what the sign said, but it was probably supposed to say "Durban," after the city in South Africa); tamarind barbeque salmon; fufu (appeared to be yams); and Jollof rice (yellow rice with kidney beans and garbanzos).
Desserts: Banana bread pudding with vanilla sauce; coconut tiramisu; chocolate mousse crunch; passion fruit meringue tart (yumm, I love passion fruit!); Kahlua zebra domes; and Mount Everest cake with Amarula liqueur. All delicious!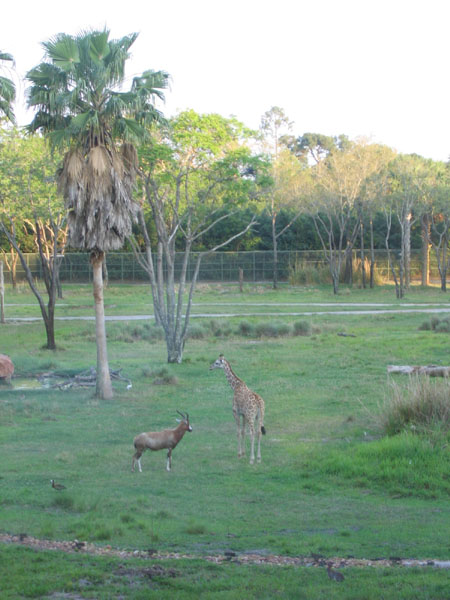 I waddled back to my room at 6:45, took some more animal photos, then left again about half an hour later. My room was on the Zebra Trail (they call the hallways of the hotel "trails"), and I knew that if I went a little further along the trail, I'd find some windows that overlooked Uzima Savanna. I was hoping to see the baby giraffe. Sure enough, there was a lookout area not far from my room, and there she was. I also saw some grown giraffes, along with the beautiful reddish brown bongo antelopes, some Thompson's gazelles ("tommies"), and some other kind of antelope I couldn't identify. There was a goat-like animal that I later found out was a blesbok antelope who was trying to get the baby giraffe to play by butting up against her legs, but she wasn't interested and wandered off. I was told later that they actually do play together quite often, which must be rare--if not unheard of--in the wild. As I mentioned earlier, one of my goals for this trip was to experience some of the many cultural activities offered at Animal Kingdom Lodge. So after watching the baby giraffe for a few minutes, I headed for the Arusha firepit for the African storytelling.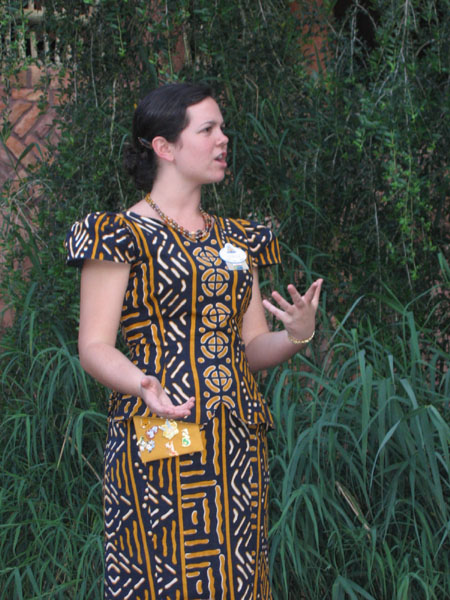 One of the cultural representatives from South African told a story about a monkey (I think) who was trying to convince a lion not to eat him. There were multiple animals involved in the story, and the woman telling it had us all make the correct animal noises at the appropriate times. It was fun, and again, one of those offerings that makes AKL different. I went back to my room about 8:00 p.m. Unfortunately, I wasn't able to get the zoom lens onto my camera in time to capture an African version of the classic spaghetti scene from "Lady and the Tramp." One of the giraffes had taken a long piece of grass from the giraffe feeding station high up in one of the trees, and as he (she?) was eating it, another giraffe sauntered up and grabbed the other end of the grass in his (her?) mouth. They both munched toward the middle and then finished it up. I wish I had photos! By now, about halfway into my trip, the memory card on my digital camera was getting pretty full. So I decided to sit on my bed and edit photos (i.e., deleting the poor photos from the card) while watching some television. I did that for a couple of hours, watched the animals for a while, read some more of my Jasper Fforde book, and went to sleep about midnight.