Day 4 (Wednesday, March 21)
(Click on any image to see a larger version of the photo.)



I met Rhonda and Bill for breakfast a little after 8:30a.m. Bill had gotten us a table by the pool. The weather was better today, so it was pleasant to sit outdoors. We then went back to our respective rooms, packed, and returned to the lobby to check out.

After catching the 10:00 a.m. shuttle, we went on the Matterhorn Bobsleds. There was a 15-minute line, but that was better than I'd seen on Sunday. My little travel yeti from Walt Disney World, Grogs Chung Skra Can (aka Little Groggy) was very happy to get a chance to meet his Swiss-American cousin, the Abominable Snowman. After the ride, we spent 10-15 minutes trying to get just the perfect photo of the monorail gliding by the Matterhorn while no one was walking over the benchmark in the foreground. It never quite timed out right, and besides, the clouds were making the photos not too good. Oh well, some other time...

We were near the Alice in Wonderland ride, and both Bill and I had mentioned that we like the "Very Merry Unbirthday" song, so off we all went on that ride, with only about a 5-minute wait.

While watching the monorails near the Matterhorn, we noticed that they were doing the whole loop; yesterday, they were only going back and forth between Downtown Disney and Tomorrowland, without going through California Adventure. The monorails have been partly or completely down a lot during the renovation of the submarine ride at Disneyland, due to construction activity near monorail piers. I think some of the downtime has been for monorail maintenance, too; they weren't running at all when I was here in December. So we seized the moment and got on a monorail for a complete ride across the Golden Gate Bridge, through the Grand Californian, into Downtown Disney, and back to Tomorrowland. The lagoon for the submarine ride is looking very colorful, with red, orange, and yellow "seaweed." The subs themselves are freshly painted in a yellow-and-blue livery.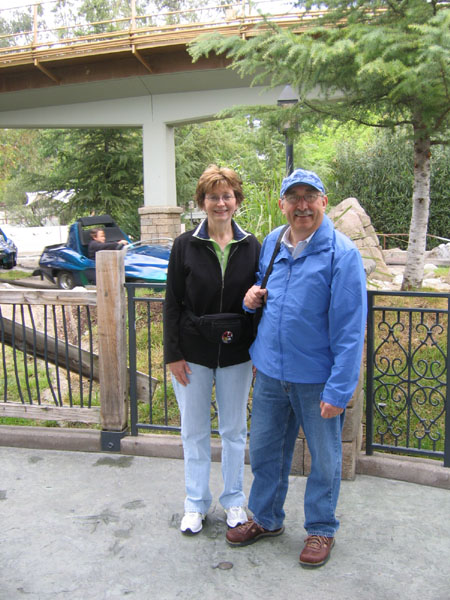 Upon our return to Tomorrowland, we browsed through some shops, but none of us bought anything. We then started heading toward New Orleans Square for our lunch reservation at the Blue Bayou. Of course, we looked for some benchmarks along the way. :-)
I showed Bill and Rhonda the Big Thunder Trail, which they enjoyed for its scenery and peacefulness, not being as crowded as most routes in Disneyland.
We stopped briefly at Big Thunder Ranch to look at the national turkeys. Well, turkey, singular; we didn't see the other one. Either he was inside the shelter where we couldn't see him, or he may have died already. When I was here last September and noticed that the 2005 national turkeys were gone, one of the CMs told me that although the turkeys have a good life here at Disneyland, they were bred for fast and ample meat production, not for longevity, so they don't live very long.
I had misremembered the time of our lunch reservation, and got us to the Blue Bayou 20 minutes early. No problem; they said they could seat us in about 10 minutes, or a little longer if we wanted to wait for a waterside table. We decided to wait, and were pleasantly surprised when we were called for a waterside table less than 10 minutes later.
I hadn't eaten waterside at the BB for a long time; it was fun interacting with the people going into Pirates of the Caribbean. The boats are maybe 30 feet away from the edge of the restaurant, so it isn't as though you're staring right at each other. But it is possible to talk a little bit, and wave. A couple of people asked us for doggie bags. Good try! One boy called out, "Are you real?" To which I replied, of course, "No!"
Rhonda and Bill both chose the seafood jambalaya; I got the mahi-mahi. For dessert, we shared the crème brulee trio (I nabbed the passion-fruit one) and a piece of very creamy key lime pie. The desserts are still coming with "pirates' booty" keepsakes made from sugar (I think this started when PotC reopened last June). Bill and Rhonda took the treasure chest, and I took the compass medallion.
Our very nice waitress, Nancy, also brought us some chocolate doubloons, of course. And our bill entitled us to two more AP "Dining with Character" pins, so I kept one and gave the other to Bill and Rhonda.
We left the Blue Bayou at 1:40 p.m. Bill and Rhonda weren't familiar with the Disney Gallery, so I took them upstairs to see that. We spent about 15 minutes browsing the exhibits and items for sale. The current rotating exhibit is called "Inspired by Disneyland. Impressions of Disneyland by Today's Artists, Animators & Imagineers." As the name indicates, it features contemporary interpretations of classic Disneyland characters and rides.
While we were at the gallery, Queenie and the Jambalaya Jazz Band started performing on the street below us, so we went downstairs and watched the rest of their set. I had heard this group from a distance before, but never stopped to watch them, so it was fun to do so.
When the group finished, we began working our way out of the park, browsing the offerings in Disney Clothiers for a few minutes before continuing up Main Street. We caught the 2:45 shuttle back to the Candy Cane Inn, and while Rhonda bought a souvenir for her grandson, I made a hotel reservation for September. Gotta use my AP once more before it expires!
Bill and Rhonda had very kindly offered to drive me to John Wayne Airport, which wasn't too far off their route back to Palm Desert. I wanted to make sure they didn't get caught in the afternoon commute traffic, so we left the Candy Cane shortly after 3:00. Southbound traffic was fine, and I was at the airport before 3:30. I was way early for my flight to San Jose, so I asked at the Southwest check-in counter whether I could go on the earlier flight. The attendant said I could, but would have to pay full fare. That would have cost me about another $60, so I decided to wait for my scheduled 7:00 p.m. flight. I asked the check-in clerk whether my luggage would go on my flight or be put on the earlier one. She said they usually hold luggage for the passenger's flight. Remember that for later. :-)
After going through security and finding my departure gate, I browsed the bookstore for something to read. I discovered that the current issue of Harper's had an article about Shakespeare, so I bought that. Around dinnertime, I got some food at McDonald's. My flight went fine, and as I walked up to the baggage carrousel in San Jose, I was surprised to see my suitcase sitting in front of the Southwest baggage office. (My bright red Mickey Mouse strap makes it easy to spot.) Hey--no waiting! I poked my head into the Southwest baggage office to ask whether I needed to show them any ID, and they said no. So I grabbed the bag, extended the handle and rolled it behind me out to the taxi stand. I got a cab quickly, and was home by about 8:30. I gotta say, as much as I enjoy visiting Walt Disney World, I sure like these short hops to and from Disneyland!