Day 2 (Monday, March 19)
(Click on any image to see a larger version of the photo.)



I was up by a little after 8:00 a.m., and downstairs in time to get some food at the Candy Cane's complimentary continental breakfast. I then returned to my room and reviewed the Knott's Berry Farm portion of my PassPorter Disneyland Resort and Southern California Attractions guidebook. I've had a couple of different editions of PassPorter for Walt Disney World and found them very helpful. So when they introduced a guide for Disneyland, I snapped up that one, too. It's an excellent planning tool, and because I have the loose-leaf version, it's easy for me to carry in my knapsack just the pages I need each day.

Around 10:00 a.m. I went downstairs again, taking photos of the abundantly blooming azaleas and other beautiful flowers at the hotel. My shuttle bus arrived right on time at 10:20--but 15 minutes later, we were back at the intersection of Harbor and Katella. Because the driver had an FM radio going loudly (at least it was on a classic rock station!), I couldn't hear his conversations with the dispatcher. But from the way he was driving around that part of Anaheim, I got the feeling that he was trying to find a certain hotel. Eventually, he pulled into the parking lot for the Doubletree--which is only about two blocks from the Candy Cane! We finally got onto I-5 about 10:50. Luckily, once we were on the freeway, it was only a 15-minute drive to Knott's.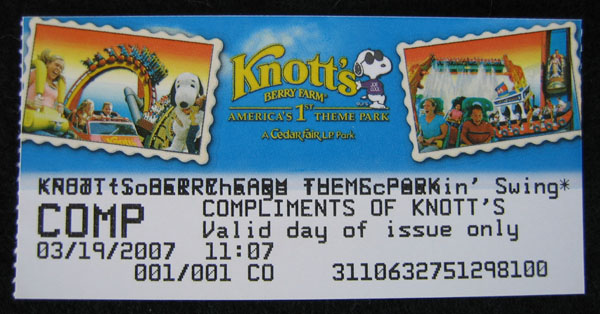 As mentioned in my pre-trip report, I was holding a printout of a season pass for Great America in Santa Clara that said I could obtain entrance to KBF prior to the time when Great America would open for the season and start issuing official season pass cards. I crossed my fingers as I approached the guest services window, but all went smoothly, and within a few minutes, I had a complimentary one-day pass to KBF in my hand. I asked whether anyone else had used a Great America 2007 season pass yet this year, and the attendant said that yes, a few other people had.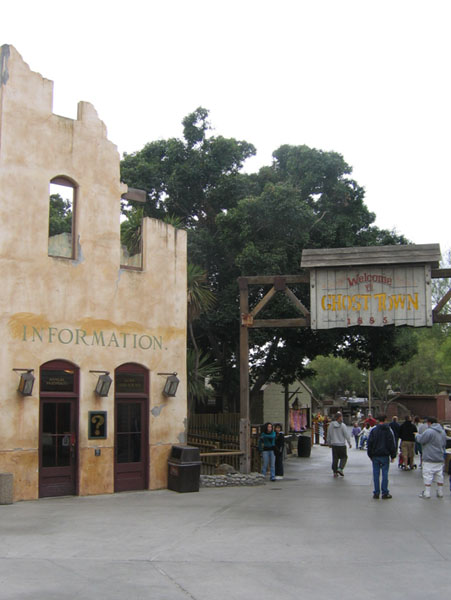 That potential obstacle overcome, I entered the park about 11:10 a.m. My return shuttle to Anaheim wouldn't be here until 6:15 p.m., so I had all day to explore Knott's. Given that last time I was here, the only area that even existed was Ghost Town, I decided to head there first and see what it looked like after all these years. As I left the entrance area, I was disappointed to see on an update board that among the attractions not operating today was the Calico Railroad--the one attraction I remembered from nearly 50 years ago! It's the Old West train ride that always runs into train robbers, a classic Knott's experience. I had just checked the KBF website a couple of days ago, and the railroad was running, so it must have just gone down for refurbishment today. :-( Oh well, maybe I can get back here some other time...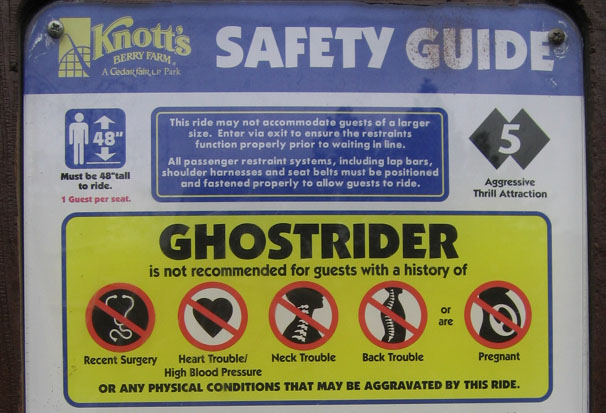 I took a hard left as I entered Ghost Town and spent several minutes staring at GhostRider, the very tall, very steep wooden coaster. Knott's has a rating system for their attractions, and this one had the highest rating, a double-black-diamond "5." I can't imagine that it's as wild as the steel coasters at Knott's, but it must be pretty wild. I could tell from looking at it that it was right on the edge of what I might enjoy, so it could have gone either way. But I eventually decided that it looked like a bit too much for me.

Returning to my meanderings through Ghost Town, I came upon a banjo player sitting on a porch railing playing the "Ode to Joy" from Beethoven's Ninth Symphony. That was different! There was no one else around, so when he finished, I went up to him and chatted for a while. He said he doesn't have a bluegrass background as one would normally expect from a banjo player, so instead, he plays mostly pop songs, with occasional classical pieces.

He mentioned that one day when he was playing the Beethoven piece, a little girl said, "That's Beethoven, right?" When he confirmed that it was, she turned to her mother and said, "See, I told you so!" :-) Evidently the little girl had recently learned the "Ode to Joy" at a piano lesson, and was proud to be able to show off her knowledge to her mom.

I noticed as I was walking around Ghost Town that there were quite a few grade-school groups in attendance. I ran into one group listening to a talk at the Geode Shop, another learning about metalsmithing at the blacksmith's shop, and a third group coming out of the one-room schoolhouse. The attendant at the Ranger Station/Nature Center told me that she was expecting some students shortly, too. Obviously it's a popular place for nearby schools. I see from the Knott's school website that most of the tours only run about $5-10 per student, so that seems like a pretty good deal.

Here's a bit more about the historical buildings (or re-creations thereof) in Ghost Town. The Bird Cage Theatre is a replica (on the outside, anyway) of the one in Tombstone, Arizona, which opened in 1881 and is now a museum. The theater at Knott's originally featured melodramas; it is now used for special events and educational presentations. The one-room schoolhouse was built in Kansas in 1879; Walter Knott bought it and shipped it to California in 1952. It was actually used as a school for his grandchildren for a while. The ranger station/nature center was also originally a school (I think in what's now the city of Pico Rivera). It was built in 1868 and is a California Historical Landmark.

One of the presentations listed on the park's schedule was something called Mystery Lodge, just past Ghost Town in the Wild Water Wilderness area. I decided to catch the 12:15 show. This waterfall and the rock in the shape of a Native American man's face are part of the peaceful entrance queue to the lodge.

By the way, I ran across quite a bit of lovely landscaping at Knott's Berry Farm. Here are a couple of photos from Ghost Town and one from Fiesta Village.

The Mystery Lodge show consists of one actor--a Native American elder--telling a story (well, actually, lip-synching to prerecorded audio), aided by some nicely done special effects.. I thought the tale was leading up to an environmental moral, but it turned out to be a touching message about elders sharing their wisdom with younger people. The program was developed in cooperation with some Kwakwaka'wakw people from British Columbia. Incidentally, the show's visuals rely on the "Pepper's Ghost" effect, which is also the basis of the ballroom scene at Disney's Haunted Mansions.

I got out of Mystery Lodge around 12:30, picked up a large pretzel to hold me for a while (I had big plans for a late lunch!), browsed through the Western Trails Museum (which has historical artifacts from KBF as well as from the old west), and then went on the Calico Mine Train. I think this is the only dark ride at Knott's, and it's fun. It's rated a "3" on the intensity scale, probably for potential scariness in the caves.

After exiting the train, I walked over to the loading area for the stagecoach. This is a good place to mention an interesting aspect of KBF's layout. Those of you who have visited Disney's parks have undoubtedly noticed the great lengths they go to to maintain the atmosphere of each area. There are exceptions--especially on the higher rides, where you can see the whole park below you--but for the most part, if you're in Frontierland, you can't see Tomorrowland.

Such carefully separated theming is definitely not the case at other theme parks--if they even have area-specific theming at all. (Last I saw, for example, employees at Great America were wearing the same outfits in all areas of the park.) The lack of separation is nowhere more evident at Knott's Berry Farm than in the boarding area for the stagecoach. It's right on the edge of Ghost Town, and the track for the brightly colored Silver Bullet coaster (a high-speed, suspended-seating steel coaster) goes right over it. The screams from the coaster riders don't seem to bother the stagecoach horses, but the contrast between the two types of attractions is certainly jarring.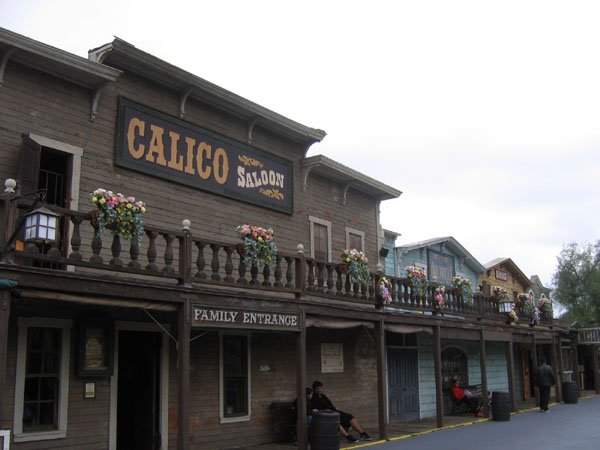 The stagecoach trip itself (intensity rating "2") goes well out of the Ghost Town area. We went past Fiesta Village and Camp Snoopy, and as we paralleled the edge of the park, the street traffic was easily visible. Knott's actually owns a lot of land (they built an entire water park next to the replica of Independence Hall across Beach Boulevard from the main park), and also opened a large resort hotel), but I guess they want to keep the main park restricted to that one part of the property, so they've chosen to crunch differently themed attractions together in some places. At least the main portion of Ghost Town is well away from all the modern stuff.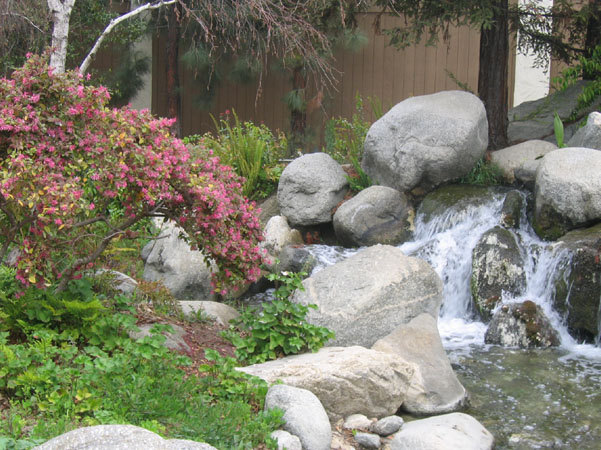 Still holding off on a full meal for a while, after my stagecoach ride I bought some roasted corn. While I sat at a picnic table eating it, I planned what to do next. I decided to cut across the front of the park to Camp Snoopy, the kids' area. I had spotted some pink lorapetalum bushes in this area during my stagecoach trip, so I sought out those to get some photos. They turned out to be near a pretty little stream.
On my way to that spot, I noticed that Snoopy himself, appropriately attired for camping in a hiking vest, was greeting visitors, so I got my photo taken with him. I had actually met Snoopy once before, in 2004, when the new animal shelter opened in his home town of Santa Rosa.
After walking through Fiesta Village and deciding that no, I wasn't going to go on Montezooma's Revenge :-), I continued on to the Boardwalk area. Here, I took the Sky Cabin ride, which is a rotating cabin that slowly ascends to a couple hundred feet in the air. Up high is not my favorite place to be, but I gazed into the distance instead of down to the tiny little people below me, and I was okay. After my return to solid ground, I watched a few boats go down Perilous Plunge (which has a 75-degree, 115-foot-high drop--yikes!) and sat through one round of Rip Tide (which holds people upside down over water fountains). Oh, yes, I mean that I sat through one round of watching Rip Tide. No way I was getting on it!
By now, I decided that it was time to make my way out of the park to the MarketPlace, a shopping and eating area that does not require park admission. The most important fact about the MarketPlace is that it's the location of Mrs. Knott's Chicken Dinner Restaurant.
For those of you not familiar with the history of Knott's Berry Farm, the Ghost Town area was originally built to give customers something to do while they waited for their turn at the restaurant. So it's been a popular dining venue for more than 70 years! According to the Knott's website, the Chicken Dinner Restaurant now serves more than 1.5 million people every year.
I had only a short wait before being seated in a lovely side room of the restaurant. It was about 2:30 now, and I was told that I could order from either the lunch or dinner menu. Both menus, of course, feature fried chicken, but many other options are also available. I ended up ordering a dinner meal with the all-white-meat option, which resulted in my getting three half-breasts. Well, there'd sure be plenty of food for later! I started with a green salad, and chose corn and rhubarb for my side dishes. There were also some tasty buttermilk biscuits.
For dessert, I simply had to get the boysenberry pie, since Walter Knott was the person who made boysenberries popular. However, by dessert time, despite having eaten only one of the chicken breasts and not all of my side dishes, I was too full to eat any pie. So I asked my waiter to fix it up to go. I also took the remaining chicken and a couple of biscuits. Because I was eating my major meal of the day so early, I figured the food would come in handy later. (And the rooms at the Candy Cane have little fridges, so I knew that I could store everything safely.)
After leaving the restaurant, I browsed the shops in the MarketPlace for a while. Not surprisingly, there's a big selection of Knott's jams and jellies. (The Knott's foodstuffs, by the way, are now owned by ConAgra; the park itself is owned by Cedar Fair.) There's also a big Snoopy paraphernalia store with a huge Snoopy on the roof.
Around 4:30, I re-entered the park and tried to decide what to do next. I tried to call the shuttle company to find out whether there might be an earlier van than the one scheduled for 6:15, but I got their answering machine, which was frustrating. I had heard some other passengers inquiring this morning about the possibility of an early return, and thought the driver had said something about a 5:00 p.m. van. I considered going out front to see whether that was going to happen, but eventually decided instead to catch the 5:00 p.m. "Fool's Gold" stunt show at the nearby Wagon Camp theater.
The stunt show was fun and well done. There were some clever references to their neighbor parks. For instance, when one guy was trying to come up with the money to pay a gambling debt, he asked, "Do you take Canadian quarters? Disney dollars? No, of course not--nobody wants those!" Later, the sergeant said, "We'll send him where all the hardened criminals go." To which his subordinate replied, "Six Flags?" Given the reputation of Six Flags Magic Mountain for attracting undesirable elements, I'll bet their PR department isn't too pleased with that jab!
The stunt show got out at 5:20. I wandered around aimlessly for a while, then went out the front exit of the park about 5:45. I found a spot to sit and got caught up on my trip notes while waiting for the shuttle van. I ran across that family from this morning, who told me that they had come out front shortly before 5:00 p.m. and waited for a while, but the van never showed up. Luckily, the scheduled one arrived a little after 6:15.
I thought about going to California Adventure for a while, but decided that because I expect to have a long day tomorrow, it would be smarter to rest up this evening. So upon my return to the Candy Cane, I took a nice hot bath, then ate some of my leftover chicken while watching "24" and "The Riches." I also made up some amaretto cocoa and enjoyed that with my boysenberry pie. (I've taken to keeping packets of instant cocoa and a tiny bottle of either amaretto or Kahlua in my cosmetic case so that I can make myself a treat in the evenings when I travel.) I hit the sack a little after 11:00.