Day 3 (Tuesday, March 20)
(Click on any image to see a larger version of the photo.)



Today I was expecting Rhonda and Bill to arrive from the desert. We made plans to meet outside of Disney's California Adventure at 11:45 a.m., but also gave each other our cell phone numbers as a backup. I went over to DCA at 9:50 a.m. Even though the park wasn't scheduled to open until 10:00, I knew that I could go through the turnstiles to Sunshine Plaza and wait until the ropes dropped for the rest of the park. To my surprise, the gate between Sunshine Plaza and Condor Flats was partway open. I went through it and quickly found myself outside of Soarin' Over California, where people were already lining up for the first flights.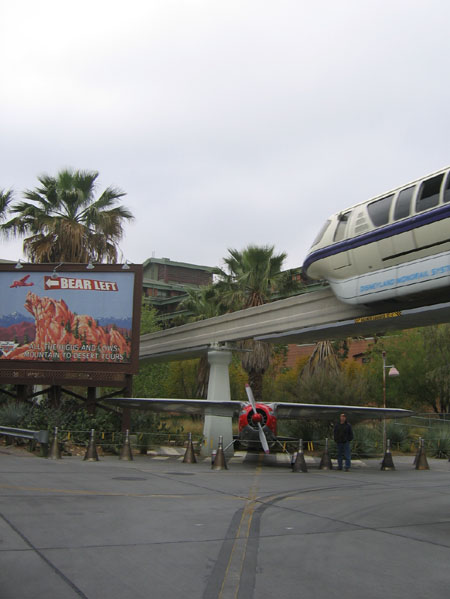 Because it's rare for me to get to a theme park at opening, I wasn't sure what kind of opening ceremony there might be at DCA, so I asked a CM about it. He said he didn't think there was really any ceremony at all, so I decided to stay and get in the single-rider line for Soarin'. I ended up on the first flight on my side of the building. As a single rider, I was, of course, at the end of a row. But this time I was on one of the center aisles, not at the very edge of the theater.
When I got out of Soarin', the whole park was open. I took a few photos of the little airplane (and the benchmark in front of it) at Condor Flats, then set off for Highway 49 to get some photos of the theming there. I was just walking past the Grand Californian when Rhonda called to say that they were at the Candy Cane already and would be taking the next shuttle to the park. We agreed that she would call me again when they arrived. I continued on to the south end of Highway 49, taking photos of flowers and such.
Then I went up the Grizzly Peak Pass Road. I took a number of photos along this stretch, which really does look like a typical road through the Sierra Nevada, with its snow stakes and hiking-trail signs. I also stopped to take photos of various parts of Grizzly River Run: the theming behind the loading area, Frog Jump Falls, and the big drop.
When I left the GRR area, I took my cell phone out of my pocket and noticed that I had missed a call. I rarely use my cell phone, and when I do have it on, I keep the alert sound set to a very quiet clicking noise, so obviously I hadn't heard it over the noise of the waterfalls. Sure enough, the call had been from Rhonda. She and Bill were just entering the park, so I told them to meet me at the benchmark under the Golden Gate Bridge. I got there a couple of minutes later, and we spent a few minutes introducing ourselves and exchanging pleasantries.
I suggested that we grab FastPasses for Soarin' and then decide what to do next. As we left the sheltered area where the FP machines are, I realized that there were little drops of water falling from the sky. Uh-oh. I thought the clouds overhead today were just the standard California marine layer (as I'd seen when I came in on Sunday), so I hadn't brought any kind of rain gear with me. I hoped that this would go away soon.
We called Larry and arranged for him to call us when he got to the park in a couple of hours. Then I made Rhonda use her new GPS receiver to find a few benchmarks in Condor Flats and along Highway 49. She got the hang of using the GPS quickly, and she and Bill found the marks quite easily once the GPS directed them to the approximate area.
By now it was getting toward lunchtime. I proposed that we eat at Whitewater Snacks in the Grand Californian rather than taking time for a sit-down lunch. Bill and Rhonda agreed. But first, we went to guest services in the hotel to see whether we could get a reservation for dinner at the Blue Bayou. Nothing was available until 9:00 p.m., so we made a reservation for lunch tomorrow, and decided to try Café Orleans for dinner tonight. Since that will put us right on Rue Royale, we can check the BB for openings before we go into Café Orleans. Maybe we'll get lucky!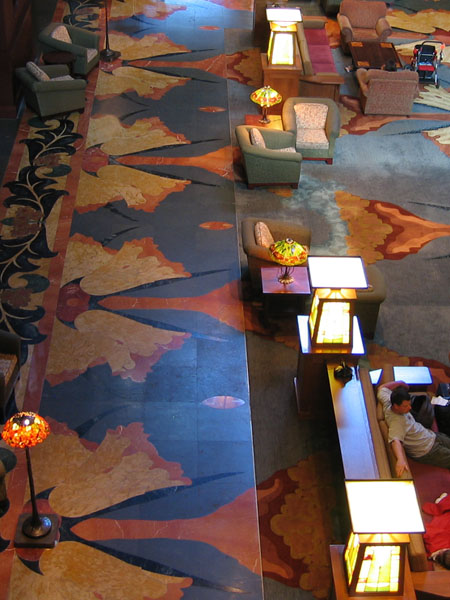 Photo (c) 2007 Larry Klementowski.


By the way, I was pleased to see that the carpet in the lobby of the Grand Californian has finally been replaced. Some of you may remember that the original one was done in by water damage when firefighters put out a burning Christmas tree in 2005.

Because the carpet was woven especially for the Grand Californian--it continues the floral pattern in the adjoining marble--it took a long time for Disney to get a new one. Meanwhile, they had some nondescript light-brown carpeting covering the center of the lobby floor. Much better now! (I didn't think to grab a photo of the new carpet at the time, so thanks to Larry for taking this one for me.)

We then went back to Whitewater Snacks, where we all chose ready-made sandwiches rather than ordering from the grill. I prefer to eat outside here, partly to watch the resident cats and partly to hear the Miner 49ers if they're playing in their nearby nook on Highway 49. But with the gloomy weather conditions, we all agreed that we would rather eat indoors today.

I wasn't sure whether Rhonda and Bill had ever seen Grizzly Peak Pass, so after we finished lunch, I took them up there. Of course, I kept making them look for benchmarks along the way! By the time we finished that walk, our FastPasses for Soarin' had become valid, so we went over there and were on the ride within minutes.

Just as we came out of the Soarin' building and I was getting my cell phone out of my knapsack to call Larry, I heard someone say, "I don't think you need that." :-) He knew approximately when we'd be getting out of Soarin', and had been watching for us from an outside table at Taste Pilots' Grill.

After a new round of introductions, we decided to head over to the Hyperion Theatre to see "Aladdin." We had plenty of time until the next show, so we stopped to find a few benchmarks and take a few photos on the way. Notice in this photo of Bill and Rhonda that the marquee on the fake El Capitan Theatre is displaying the actual movie that's currently playing at the real theater.

On arriving at the Hyperion Theater--oops! Turns out that yours truly had read the printed schedule wrong, and there were no performances of "Aladdin" today.

Okay, what now? Well, how about Disneyland? That's always a good idea!

We walked across the plaza, entered Disneyland and walked down Main Street. Before we turned left to enter Adventureland, we stopped to admire the gorgeous view of the pink-and-blue Sleeping Beauty Castle framed by bright pink tabebuia trees in full bloom. I don't recall ever having been here at the right time to see them bloom before; they were really spectacular.

We got FastPasses for the Indiana Jones Adventure, then continued on to New Orleans Square to check again about the Blue Bayou. Still nothing open there, but we were able to make a reservation at Café Orleans for a little before 6:00, which would allow Larry's wife Julie enough time to get here after work.

We had about an hour until our FastPasses for Indiana Jones would be usable, so we went on Pirates of the Caribbean, which Rhonda and Bill hadn't seen since last year's makeover. We all agreed that the additions of Jack Sparrow, Capt. Barbossa, and Davy Jones were well done, adding atmosphere to the ride rather than looking like a marketing ploy to promote the movies.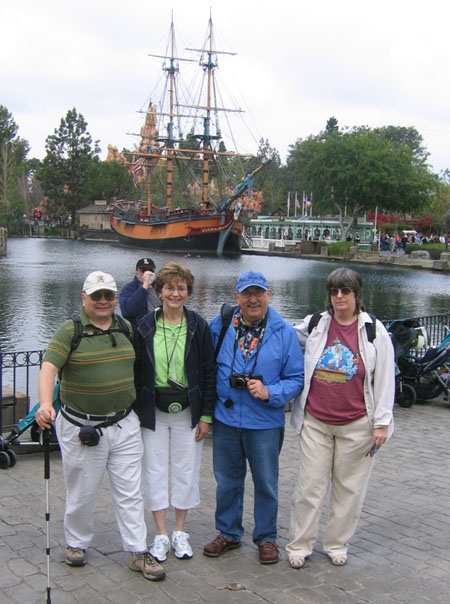 When we came out of Pirates, we saw the Columbia at the dock, so we scooted over there to catch it. Turns out we needn't have hurried, because it wasn't going anywhere. It was open for people to explore, but wasn't cruising Rivers of America. We were told that it wasn't operating during the day because of construction on Tom Sawyer Island (they're adding a pirate-themed area). Larry and I both guessed that this was an aesthetic rather than safety issue: that is, Disney doesn't want to diminish the guest experience by having us going past construction areas during work hours. (The Mark Twain is out of service for a few months, so only the Columbia is running now.) The situation was very different at Knott's Berry Farm yesterday, when I had clear views of people working on the tracks for the Calico Railroad and the construction area for the new Sierra Sidewinder coaster.
After we looked around the deck and below-deck areas of the Columbia for a little while, we walked back to New Orleans Square and went into Haunted Mansion, without any wait. By now, our FastPass time for Indy had arrived, so we went there next. Larry didn't go on the ride because he's been having some back problems; when we met up with him outside the River Belle Terrace, he informed us that we had just missed a rain shower. Perfect timing being inside that long Indy queue and on the ride itself when the rain came through!
We still had some time before our dinner reservation, and had Rhonda mentioned that she really likes Star Tours, so we walked over to Tomorrowland to do that. Because of his back problems, Larry decided to skip this ride, too. Julie was due to arrive soon anyway, so Bill, Rhonda, and I made plans to meet the two of them at the Plaza Inn in a little while. Sure enough, they were both there when we got out of Star Tours. After introducing Julie to Bill and Rhonda and chatting for a few minutes, we all walked back to New Orleans Square and checked in for our reservation at Café Orleans.
I made one final run up to the Blue Bayou, but there still weren't any cancellations, so we went ahead and ate at Café Orleans. Not that I should make that sound like a bad thing, because it's a very nice sit-down restaurant now. Larry and Julie and I ate here with some other friends last September, and I was looking forward to another opportunity to try their new menu.
This time, I got a house salad and the Creole Ratatouille. Everyone else got French Onion Soup plus either a crêpe or a salad. Although we were inside (some hardy souls were eating outside), it was still a bit cool, so we all ended up ordering hot tea as well. After our entrees, we shared a plate of Mickey-shaped beignets and a big slice of Dream Cake. The latter is a new dessert in honor of The Year of a Million Dreams. It has five layers of chocolate; I didn't catch our server's entire description, but I know it included chocolate cake, chocolate mousse, and chocolate ganache.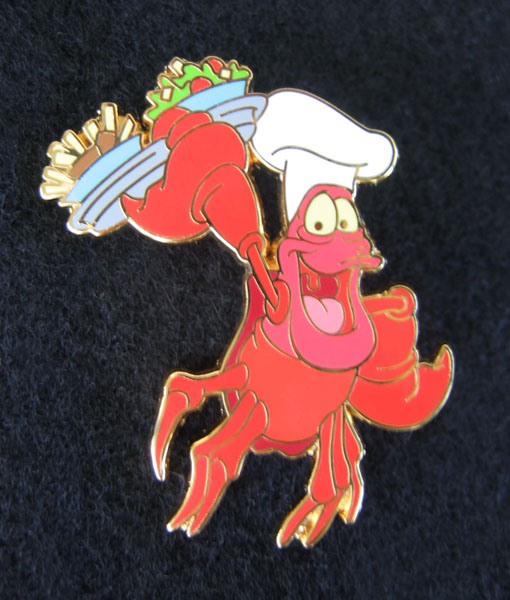 We discovered that Disney has instituted a new series of pins for annual pass holders who spend at least $30 at certain Disneyland Resort restaurants. Last year, there was a series honoring bygone Disneyland restaurants. The new pins promote the character dining locations; the current one features Sebastian the crab, representing Ariel's Grotto in California Adventure. As a "Little Mermaid" fan, I was delighted by this unexpected treat! Our total bill tonight entitled us to three pins, so Larry and Julie took one, then gave one to Bill and Rhonda and one to me. Our waitress also brought us a slew of chocolate doubloons, so we split those up, too. (These were originally only available at the Blue Bayou, but they are now handed out at Café Orleans, too. I think that began last year when Café Orleans became a sit-down restaurant.)
We finished dinner just after 7:00, then scooted over to the hub to see the Parade of Dreams. After that, Larry and Julie decided to call it an evening. Bill, Rhonda, and I went on Buzz Lightyear, then caught the 8:15 shuttle back to the Candy Cane Inn. Their room hadn't been ready when they arrived this morning, so they checked in and took a few minutes to settle in to their room before coming over to visit me for a couple of hours. We wanted to toss around some ideas for a business project we're doing together, and I also needed to interview them for a magazine article I'm writing. After they left, I downloaded the day's photos to my MacBook and caught up on these trip notes (which I hadn't been doing much during the day). Bedtime was just before midnight.