Day 3 (Sunday, Dec. 10)
(Click on any image to see a larger version of the photo.)



With only three days to enjoy Disneyland, I planned to get the most out of my final day by scheduling a mid-evening flight home. I got up in time to get some of the Candy Cane's free continental breakfast, then returned to my room, packed, and took my bags to the registration building for storage while I was at the parks.

Although the weather had been quite cloudy all weekend (including a bit of rain, although luckily most of that was overnight), I wanted to get some more photos of the Paradise Pier area, so I headed there first. I was disappointed to find that California Screamin' wasn't running. My disappointment wasn't because I wanted to ride it--I'm way too chicken for that!--but because I wanted to get some photos of the cars going through the loop in the Mickey head. Oh well, another time. Anyway, the Sun Wheel was pretty.

By the way, I took some of my photos from the open-air bar at Ariel's Grotto restaurant. Even though I know that alcohol is available at California Adventure, it was still a bit of a shock to see row upon row of hard-liquor bottles.

I wanted to see PUSH one more time before I left, so I went over to the southern end of Highway 49 just before 11:00 and plopped myself down on a bench. PUSH's handler arrived a few minutes later; it was the same guy that Larry and I had talked with yesterday, and he recognized me and nodded hello. There weren't as many people around today, so PUSH never had a very big crowd around him. But he still got off some good lines. "Put down that popcorn and nobody gets hurt." "You don't have any trash? You could buy a corn dog and throw it away."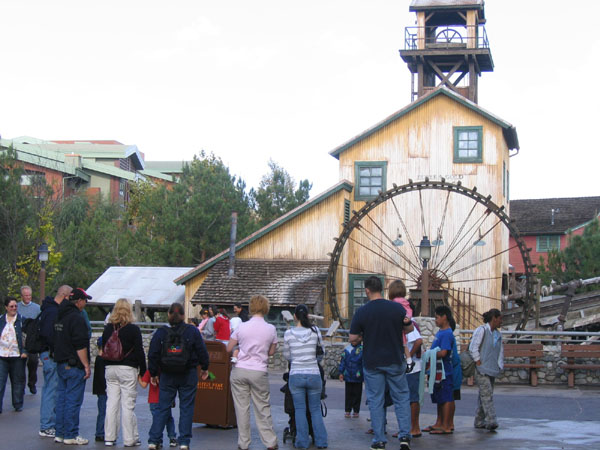 At one point, PUSH rolled over to another trash can (one of the "Keep the Bay Area Beautiful" cans at the end of the street with the Victorian houses, right on the edge of Highway 49) and said hello to her. When she didn't respond, PUSH said sadly, "She won't talk to me ever since the divorce." Great explanation for her silence! At another point point, a little girl gave PUSH some cotton candy. He immediately began spinning around shouting, "Sugar high! Sugar high!" Then he said, "Uh-oh, I'm going to crash," and he abruptly stopped spinning and began snoring. :-)
I was trying to stay on the fringes of PUSH's area, within earshot, but standing back to let other people interact with him. However, as I mentioned, there weren't too many people around, so at one point, the CM sent PUSH over to chat with me for a couple of minutes. I apologized for not having any trash, but PUSH said, "That's okay. I live on good conversation." He asked where I live, and how long I was going to be at Disneyland. When he found out that I live near San Jose, he said he has a friend in Los Gatos. I thought at first he meant a trashcan friend, but when he mentioned that she has red hair, I realized that he meant a human friend. :-) I promised him I 'd look for her if I get to Los Gatos, and that made him happy.
What I didn't think to do was put my camera in movie mode and get some short movies of PUSH. In still photos, he looks like an ordinary trashcan! I'll put that on my to-do list for my next trips to WDW (where he has cousins) and DL.
After PUSH went away for his break, I wandered around the Grizzly Peak Recreation Area taking more photos of the mountain, including some from one of the fire lookouts along the Redwood Creek Challenge Trail. I'm not a big fan of rope bridges, but they were the quickest way to get from lookout to lookout, so I tentatively worked my way across them.
I also saw that there was no line for Grizzly River Rapids, so I got my waterproof poncho out of my knapsack, put it on, and got on a raft. I like this ride better than Kali River Rapids at Walt Disney World. I think it's longer, and it's definitely got more whitewater. Oh, by the way, I checked my pedometer just before and after the ride, and it increased by about 60 steps as I rafted my way along the Grizzly River. :-)
By now I was going into Soarin' withdrawal, so I headed back to Condor Flats, got into the single-rider line again, and was immediately directed to a row in the loading area. This time I landed in the middle section, so even though I was at the end of a row (naturally; that's where they put single riders), I was not far from the center of the screen. And again, I was in the top row! I had good luck this weekend.
Back to Disneyland for more photos. The sun was moving behind Splash Mountain, so those didn't work too well. As I headed away from Critter Country, I noticed that the Columbia was just pulling into the dock. I hadn't been on that ship in ages, so I walked briskly over to the dock and got there in plenty of time to board the ship for its next voyage.
Did you know that the Columbia River in the Pacific Northwest is named after this ship? (Well, not this exact ship, but the one it's a replica of.) I didn't know that until the captain mentioned it. A bit of historical education during a lovely day at Disneyland!
After completing our leisurely voyage around Tom Sawyer Island (more leisurely than planned; we had to stop for a few minutes to avoid getting back to the dock while the Mark Twain was still loading), I walked along the outside of Big Thunder Mountain taking some scenic photos of the runaway mine cars and the mountain.
I also found this cute Hidden Mickey. Yes, the roundish leaves on the cactus (some kind of Opuntia?) give the Disney gardeners a head start on making a Mickey, but the gardeners obviously help out by trimming the extra "ears" on one leaf.
Then it was time for another trek on the Big Thunder Mountain trail, where both of the national turkeys were in the sun, making for an easy photo.
I also stopped to take this photo of a mural in a little rest stop/phone booth along the trail. This kind of detail really brings Disneyland alive. They could have just painted the inside of the shelter a solid brown; instead, they did this.
Another restaurant on my to-try list was the Village Haus. I got a turkey club sandwich that unexpectedly came on foccacia bread, and ended up sitting on a low brick wall next to King Arthur's Carousel to eat it.
I had just begun eating when a pearly band marched down the main part of Fantasyland from the castle and set up shop between the carousel and Dumbo. I didn't even know that Disneyland had a pearly band! It's fun to discover new entertainment at Disneyland. They only did a couple of songs. (One was from "Mary Poppins," perhaps "Chim-Chim-Cheree"? I didn't write it down at the time and can't remember now.) Then they marched off somewhere else. I didn't realize they were only going to do two songs, so I didn't clean the mayonnaise off my hands (it was seeping through the bread from the inside of my sandwich) in time to grab my camera and get a photo of them. Oh well, they're now on my list of things to find the next time I'm at Disneyland.
After finishing my sandwich, I realized that I hadn't been to Tomorrowland yet on this trip, so I headed over there. I then realized that I had never seen "Honey, I Shrunk the Audience" (neither here nor in Florida), so I went into that theater just a few minutes before a show started. I couldn't remember what I'd heard about the movie; was it just 3D, or did it also have special effects in the seats? It turned out to be the latter, although the mouse effect wasn't working at my seat.
When I came out of "Shrunk," I noticed the Trashcan Trio setting up, so I listened to them for several minutes. Street entertainment such as this is a large part of what makes Disneyland Disneyland, rather than just a collection of rides.
It was getting near time to head back to the Candy Cane and catch my airport shuttle, but I had one last errand. The Boudin Bakery at California Adventure makes Mickey-shaped sourdough loaves, and also other shapes as appropriate for special seasons. I had noticed at the Farmer's Market Fruit Cart yesterday that they had both Mickey loaves and snowman loaves. So I wanted to take one home with me.
Alas, when I got there I discovered that both the fruit cart and the Pacific Wharf Cafe (the restaurant at the bakery itself) were out of both shapes. :-( I wasn't interested in hauling a normal-shaped sourdough loaf back to the Bay Area (coals to Newcastle and all that), so I left empty handed.
My bus to the airport was due at 4:20, so I caught the 3:45 shuttle back to the Candy Cane, retrieved my bags, and waited outside on a bench. There's nothing exciting to report about the rest of my day. I got to the airport way ahead of my flight time; the flight was uneventful; and I was home by 9:30 p.m. I'm already thinking of things I want to do on my next trip in March (more PUSH! more street musicians!), and I hope to get back at least one more time after that before my annual pass expires in September.
Total steps today: 19,600 (approx. 6 miles)