Day 2 (Saturday, Dec. 9)
(Click on any image to see a larger version of the photo.)



Today, my local friend Larry was meeting me to play around the parks. I was hoping that his wife Julie would be joining us, too, but she turned out to have too many weekend tasks.

Our plan was to meet at the Blue Ribbon Bakery on Main Street at 9:00 a.m. I had an attack of stupidity about the Candy Cane's shuttle-bus times, and realized too late that I should have caught one at 8:30, because there wasn't one at 8:45. I called Larry's cell phone to let him know that I'd be a little late; it went through to his message machine, so I hoped he would get it in time.

He later tried to leave me a message saying that he'd gotten his food and gone down to Coke Corner at the end of Main Street, where there was more seating available. My cell phone went wonky when I tried to retrieve the message, so we didn't find each other until he came back to the bakery a while later. But eventually, it all worked out!

I didn't take extensive notes today. Basically, we wandered around both parks doing whatever struck our fancy. I also told him about a photography project I was working on, and he got interested in doing that, too. So we looked for good photo opportunities as we walked hither and fro.

One of my goals for this trip was to enjoy some of the abundant street entertainment that Disneyland offers. I was especially eager to see PUSH, the talking trashcan, who recently moved from Tomorrowland at DL to the Grizzly Peak Recreation Area at California Adventure. But before going over there, we had fun around Disneyland.

As we were walking along the Big Thunder Trail at one point, we encountered a ballet folklorico group from Hacienda Heights, California, crossing the trail into a backstage area near the Plaza Gardens. We found out that they would be performing soon, so we headed over there, found seats, and watched them for about 15 minutes.

We then left to catch a performance by the Laughing Stock Company improvisational troupe outside the Golden Horseshoe Saloon. I'd seen bits and pieces of some of their skits, but not a whole one. So it was fun to finally see an entire performance. This one included a cowpoke in "chia chaps," a mayor, and of course, a very hairy guy playing Sally. As usual, they also pulled in some victims...er, townspeople from among the onlookers. Fun stuff.

Larry and I had read recently about some possible surveying work on Tom Sawyer Island in preparation for rumored changes there, so after Laughing Stock's performance, we caught a raft to the island and walked around it. We peeked between the logs at the fort, but didn't see any sign of construction preparations or surveying. We did, however, get some nice views of the Columbia "sailing" past the island, as well as the Explorer Canoes. I hadn't realized that the canoes go all the way around the island. Yikes, that's a lot of paddling!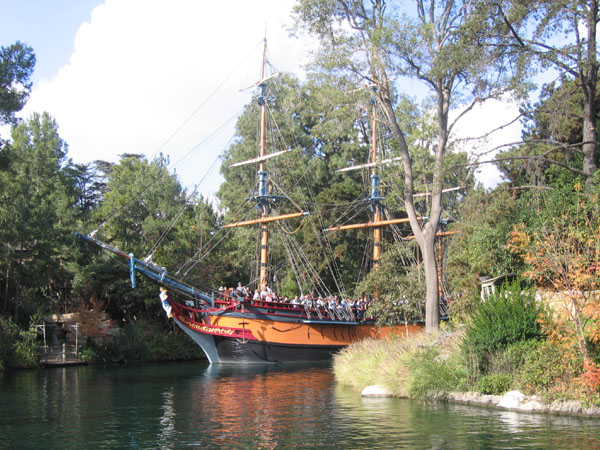 Next stop was California Adventure, where we wanted to catch a performance by the Miner 49ers bluegrass group. Again, I'd heard them a little bit, but never a whole show. They were just setting up near the Rushin' River gift shop when we arrived a couple of minutes after the scheduled start time, so we found logs to sit on and had a ringside seat for their show. Of course, this being Disneyland, they included such famous bluegrass songs as "Supercalifragilisticexpialidocious." :-) (Hey, guess what--that word is in Word's dictionary! The people at Microsoft do have a sense of humor after all...)
By this time, it was about 1:30, so time to get some lunch. Larry and his wife are big fans of Whitewater Snacks at the Grand Californian Hotel, and since we were right near the hotel's entrance, it was a logical place to head.
We sat outside, where I discovered that the grassy area under the redwood trees between the hotel and DCA is populated by several cats. We had three of them hovering around just outside the decorative woodwork that encloses the restaurant's patio. One was a large brown tabby, another was a beautiful calico, and then there was an adorable white kitten with black spots (few months old?). It didn't take much convincing to interest them in our tuna and chicken sandwiches. I even got one of them to take some tuna right out of my hand.
They look very healthy, so I assume that whether it's done officially or not, some Disney employees are taking care of them. Larry mentioned a number of other places where he's seen cats at the Disneyland Resort. I'm sure they're useful to have around, which is why I didn't feel bad about giving them a bit of food. I wouldn't feed pesky birds!
Upon returning to the DCA, we took a leisurely stroll around the park. At one point, we stopped at the information kiosk near Sunshine Plaza and asked when and where PUSH would be appearing. His next show was at 4:15, so we made sure to be at Highway 49 by then. It was great seeing him in his handsome new Grizzly Peak Recreation Area outfit. The CM running him was very witty, which made the show even more fun.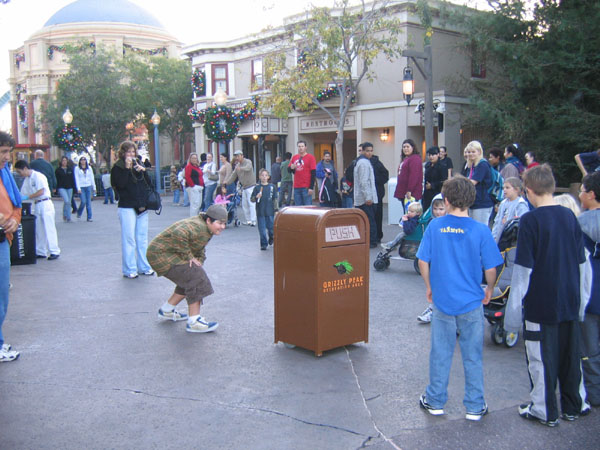 We did get a bit worried when several kids surrounded PUSH and started getting quite physical with him, such as pushing on him a bit and sticking their heads inside his doors. He was actually trapped for a while; he kept saying that he needed to leave, but the kids weren't moving, and their parents weren't inclined to pull them away. I think it would have been dangerous for PUSH to start moving with kids right in front of him, so it was several minutes before he could extricate himself. And then a few of the kids started following him down the path toward the backstage area. Luckily, at that point the parents finally woke up and brought the kids back to the main road.
After PUSH went backstage and the crowd dispersed, Larry asked PUSH's handler a question, and we ended up chatting with him for a few minutes. He said it's not uncommon for kids to get a bit aggressive with PUSH in the late afternoon, after they've been eating sugary foods all day and are quite hyped up. He also answered a few questions we had about how PUSH works. Larry and I are both familiar with electronic equipment, so it was interesting to find out more about the cute little guy.
Larry bade me goodbye after that, and I headed back to Disneyland. Another restaurant on my list of places to try was the River Belle Terrace, so I got a barbeque platter (ribs and chicken) there and took it outside. The tables were getting full, but a nice lady said I could sit at her table. It turned out that she was holding the fort for some friends so they could watch the 9:00 performance of Fantasmic, even though that was still more than two hours away. She had bought some food at the restaurant, but I have mixed feelings about people tying up tables for hours on end while newly arrived restaurant patrons are trying to find a place to eat.
I had now been on the go for 11 hours straight, so I decided to call it a day. After finishing my dinner, I walked over to the train station at New Orleans Square and took the train back to Main Street. I browsed through a few shops at the plaza end of the street, then left the park and caught the 7:45 p.m. shuttle back to the Candy Cane Inn. I read my email and took a nice hot bath to soothe my tired body (especially my feet!). A little after 9:00, I put on some warmer clothes, heated some hot water for cocoa, added a bit of amaretto, and went out to watch the fireworks. I then returned to my room, watched the news, transferred my photos, and went to bed about 11:00.
Total steps today: 26,650 (approx. 8 miles)