The Foundation Directory Online (FDO) is a database of more than 100,000 U.S. foundations. Created by the nonprofit Foundation Center, it's an invaluable source of potential funders for your nonprofit.
Thanks to the Foundation Center's Funding Information Network, you can get free access to FDO Professional at hundreds of libraries, community foundations, and other locations across the country. Here are just some of the things you can do with FDO Professional:
Search for prospective funders by your field of interest (such as animal welfare or early childhood education), or by keyword search.
Narrow your search to funders who make grants in your geographical area.
View the IRS Form 990 filings from a foundation to find out what types of nonprofits they've given money to.
See who's given money to other organizations that do the same kind of work you do.
Read detailed information about each prospect and get their website address (if any) for additional guidelines.
Ready to take advantage of this wonderful free opportunity for nonprofits? Then head to this website: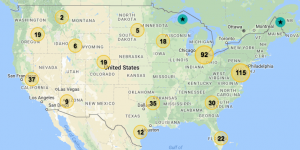 You can zoom in on the map to see your area, or enter a ZIP code or city name to see free FDO locations near you.
Good luck in your funding search!
© 2018 Patricia F. Winter