In Memoriam
Because we've lost several "North of 60" actors over the years, I've decided to collect all the information previously posted on my website onto one page. The dates are when I posted updates on my main Nof60 page.
Tina Louise Bomberry ("Rosie Deela")
Tina Louise Bomberry died in February, 2018.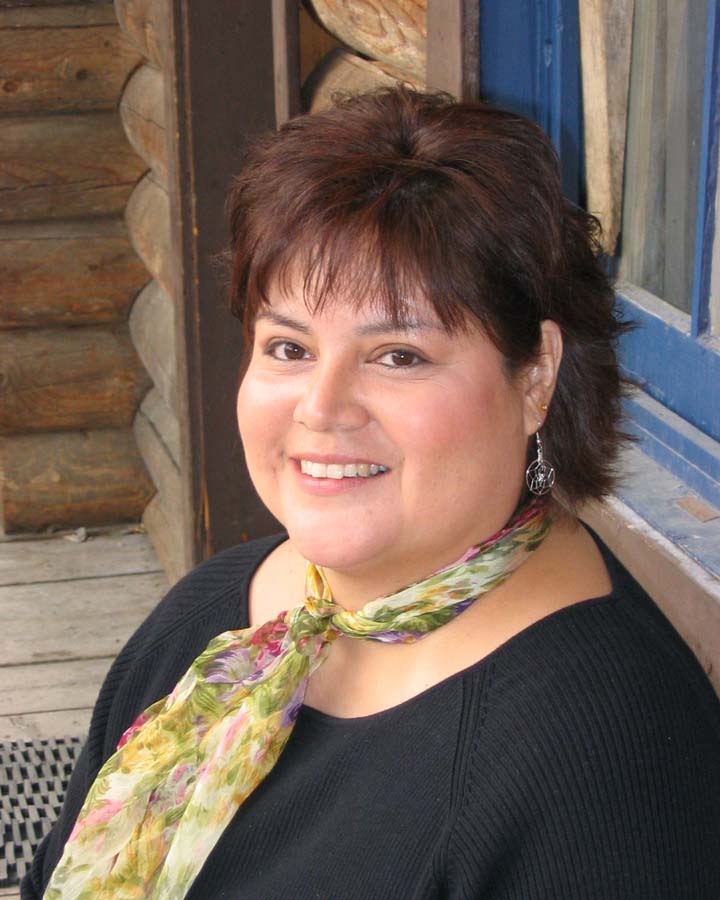 (c) 2003 Patricia Winter
All rights reserved.

February 15 - The actress who brought the irrepressible Rosie Deela to life has passed away. Her death even made news in the U.S. via the Hollywood Reporter. She was only 52 years old. Ms. Bomberry was nominated for a Gemini award for her work on Nof60. She also appeared in other TV movies and series.
Jimmy Herman ("Joe Gomba")
Jimmy Herman died in September, 2013.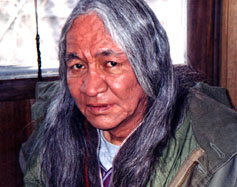 (c) 2002 Patricia Winter
All rights reserved.

September 15 - I am very sorry to report the death of actor Jimmy Herman. Although best known to Nof60 fans as Joe Gomba, he acted in many other TV shows and films, including "Dances with Wolves," "Little House on the Prairie" (the remake), "The X-Files," and "Grey Owl." Dakota House reported the news on his Facebook page the other day: "One of my close and long time friend has passed on to the spirit world, he has touched so many lives and will be dearly missed! My deepest condolences goes out to Jimmy Herman's family. My heart goes out to you all!!"
October 13 - I found another obituary for Jimmy Herman. It was in the Edmonton Journal.
August Schellenberg ("Ben Montour")
August Schellenberg died in August, 2013.
September 15 - We also recently lost August Schellenberg, who played Ben Montour in several episodes of Nof60. He was probably best known for the "Free Willy" movies, but he had a varied career that included headlining an all-Native production of "King Lear" last year. There's an obituary on the CBC website.
Gordon Tootoosis ("Albert Golo")
Gordon Tootoosis died in July, 2011.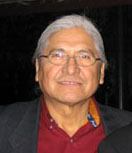 (c) 2004 Patricia Winter
All rights reserved.

July 5 - I am very sorry to report the death of Gordon Tootoosis. His contribution to the success of Nof60 was immeasurable, giving us a "villain" who was truly three-dimensional, not a cutout bad guy. Of course, he turned in equally impressive performances in other TV shows and films. And by all accounts, he was a superb role model in his personal life, taking care of his extended family and working for Aboriginal rights.
CBC has posted a preliminary article about his passing, which was just announced by his family a few hours ago. No doubt there will be more tributes in the days to come.
July 6 - Here are some more news stories about Gordon Tootoosis:
A video from CBC News Now. It begins with a clip from "Dream Storm."
An article in the National Post.
A statement from the National Chief of the Assembly of First Nations.
July 7 - Thanks to the fans on the Nof60 Yahoo Group for letting everyone know about some additional stories honoring Gordon Tootoosis:
The story on the CBC website has been updated with a two-minute audio clip (probably from CBC Radio) that includes brief comments from Tina Keeper. You can also click here to go directly to that audio.
The daily CBC Radio news program "As It Happens" interviewed Tantoo Cardinal about her friend. That segment starts 7:38 into Part Two, available on the AIH website. It's also available as a podcast.
Selina Hanuse ("Hannah Kenidi")
Selina Hanuse died in January, 2000. She was struck and killed by a car while crossing a street in Vancouver.
Mervin Good Eagle ("Joey Small Boat")
Mervin Good Eagle died in October, 1996.
There a tribute to him at the end of "The Watchers" (episode 6 of season 5):

Mervin Good Eagle
April 16, 1977
October 23, 1996

Mervin
May the Eagle fly with you
and guide you in your
journey with the Creator
You're loved and sadly missed
Mervin's suicide prompted fellow Nof60 actor Tom Jackson to create the Dreamcatcher Tours, in which Tom and counselors visited native communities to address the issue of teenage suicide through both entertainment and workshops.
Back to Patty's "North of 60" page
patty@wintertime.com



Text (c) 2011-2018 Patricia F. Winter.
Photos (c) as noted.
Last updated 9/14/2018
Mac and the Mac logo are trademarks of Apple Computer, Inc.,
registered in the U.S. and other countries. The Made on a Mac Badge
is a trademark of Apple Computer, Inc., used with permission.