North of 60 Interview: Tina Louise Bomberry
I was able to catch up with Tina Louise Bomberry for just a few
minutes during the filming of "Distant Drumming."
PW: What have you been doing since the last movie?
TLB: Since the last movie I did a lot of auditioning in Toronto, and I helped with the Native Earth fundraiser for the women's shelters. We did "The Vagina Monologues." So that was a lot of fun. A bunch of ladies, women of color, got together, and it was a lot of fun. We did that at the Theatre Passe Muraille in Toronto. We raised $5,000 for one women's shelter, and $5,000 for another women's shelter.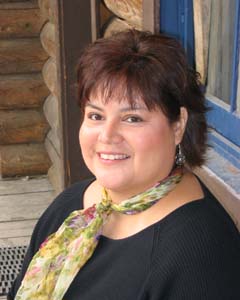 (Click on photo for larger image.)
PW: That's wonderful!
TLB: Our chief of the Six Nations, Roberta Jamieson, did a monologue. And I read with another lady by the name of Gail Maurice who was in "Big Bear." We read "Crooked Braid."
[Note: That particular monologue was developed from interviews with Native women.]
PW: That must have been a fascinating evening. And what else have you been up to?
TLB: I've been working full-time. I work with developmentally challenged adults.
PW: That must be interesting. What exactly are you doing?
TLB: I've been working there at Six Nations. It's called "Six Nations Special Services for Special People." I pretty much coordinate recreation and leisure activities.
PW: Is that a day center, or a residential program?
TLB: It's a day center, an activity center.
PW: And you say you do that full-time?
TLB: Yeah.
PW: Weren't you doing cosmetology, too?
TLB: Yeah, I finished my hair styling course. I'm doing that on the side, part-time. I took the summer off and I'm out here, having fun!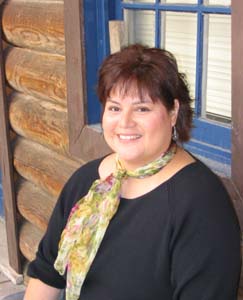 (Click on photo for larger image.)
PW: Are you thinking about opening a salon at some point?
TLB: At some point. But it's a hobby right now. I'm having a lot of fun. I've been apprenticing at various hair salons near where I live.
PW: Do you have another other theater or movie work coming up that you know of?
TLB: No, I don't.
PW: But it must be fun coming back to do the "North of 60" movies occasionally.
TLB: Oh yeah, it's great to see everybody again and keep in contact.
PW: Do we see much of Rosie in "Distant Drumming."
TLB: I'm in it as a supporting actor, so watch the show and see!
PW: We sure will! Thank you, Tina. I'll let you go and rest up before your next scene.
Back to Patty's "North of 60" page
patty@wintertime.com
Text and photos (c) 2003 Patricia F. Winter.
All rights reserved. For personal use only. Do not distribute to other persons by electronic or non-electronic means (including posting on a web site) without prior permission from the copyright owner.