Coming to Lynx River
PW: In your first episode on Nof60, Brian Fletcher came to Lynx River on a temporary basis. Had it already been decided by then that he would become a permanent character, or was that decision made sometime afterwards?
RB: At the time of filming my first episode, I had already undergone an extensive audition and screen-test process, and had, with my agent, negotiated a contract.
ND: How did you land the role of Brian Fletcher?
RB: Landing the role of Brian involved lots of traveling to and from auditions in Toronto and in Calgary, as well as a screen test with Tina Keeper on the set. I had, in fact, been short-listed for the original cop part of Eric, and had been involved years before in that series of auditions and a screen test in Montreal. As a result, I was not an unknown quantity to the producers and the network.
PW: What were you told about Brian Fletcher's background and personality?
RB: During the many meetings with the writers (they had offices on the set) we discussed Brian's ins and outs. The talks focused less on the past than on the present. We knew he was a guy who liked the outdoors, had played hockey with some success as a younger man, and was having marital troubles. Best to reveal all of this stuff rather than carry it around, hidden in your pocket where nobody can see it...
PW: From my brief visits to the "North of 60" set, it seemed to me that the cast and crew were a real family, very warm and friendly. What was your experience with them?
RB: The cast was huge and not everyone dealt with everyone else. It was less like a family and more like a small town. Those that worked together on a regular basis all seemed to get along well, but we all had quite a distance to travel to and from the set, and people came, literally, from all over the country to shoot, so there was precious little time to socialize. I really enjoyed working with everyone. I remember very, very few negative experiences, which is very rare on a series. You hear this from "North of 60" actors all the time--and for good reason, because it is true--the crew was awesome. Truly. I actually hung out with those guys, not the actors.
ND: Did you have much knowledge of First Nations people, their culture and issues prior to joining the cast?
RB: I did not have much prior knowledge of First Nations people, so it was a wonderful learning experience for me.
Brian Fletcher's downfall
PW: Brian had obviously had affairs in the past, so why do you think the incident with Brenda Shore led to such destructive consequences? Was it the pressure from Albert Golo? Brian's realization that his mistakes in life were finally catching up with him? Something else?
RB: All of the above, really. Brian had so many issues: his yearning for his "glory days," his dissatisfaction with his career, his failure as a husband, his and Rosemary's inability to conceive, etc. etc. When he is lured into having this dalliance with Brenda, he is basically out of his mind already. Albert very carefully orchestrated the whole thing, and it was all aimed at getting rid of Michelle.
Of course, all that is really justification. Albert knew as soon as he met Brian that he was a weak man. Sad for me, but true. I became the man everyone loved to revile. People would come to the set on a tour and would want to take pictures with the cast--all except me. I also used to get approached in restaurants and told that I should not be on the show because I was a bad man. I even seem to recall that when the episode aired, Stacy da Silva's real-life relatives were calling her to see if she was okay and if they should maybe have a word with me, if you know what I mean. All these things proved to me that we must have been doing something right with Brian to elicit such responses.
PW: At what point did you find out that the storyline was going to end with Brian disappearing? Were you told about it when Brian first encountered Brenda, or not until later?
RB: We would usually get the script a week before shooting. Brian's final season came as an unpleasant surprise to me. My son had just been born and I was under the impression that I had two more years on my contract. I was wrong. Producers hold the cards, and if your option is not picked up by a certain date, your contract is void. They let the date go by and then called to tell me I was being killed off. It still hurts to think about it. It was the best job I had ever had to date, and I had done nothing wrong, and here they were getting rid of me. Broke my heart.
They did, to their credit, write a fun storyline for me for that season, and at least for that I was grateful. All water under the bridge now that I've done five or six more series and learned how the world really works...
PW: You received a Gemini nomination for "A Deeper Silence." You also received one for "Tango" (the episode where Rosemary Fletcher has a miscarriage). Could you say a few words about those particular episodes?
RB: From what I can recall, they were busy episodes and I was very happy with the storylines I had been given. My fondest memories are of working with Julie Stewart, who I have always admired. We have had a long friendship and we worked very well together as a result.
Brian Fletcher returns
PW: What was your reaction when you were invited back to continue--and finish--Brian Fletcher's story in a TV movie?
RB: I thought that they were calling about the Gemini awards, as I was nominated for one, and we would talk about the seating plans at the table. Then I realized I was being told that they wanted to bring Brian back from the dead, and then really kill him for good. I suppose in the back of my mind I had always held on to the hope that Brian would wander out of the bush and do something interesting--but in the series. And not only to get killed! Anyway, my agent and I held them for ransom as best we could, knowing this was the last money we'd ever see from them, and I went ahead and shot the picture.
PW: Was it difficult getting back into the mindspace of Brian Fletcher?
RB: Actually, going back to the set was kind of like being a ghost. Everyone, including myself, had assumed Brian was dead--and yet here I was wandering around Bragg Creek again. Also, I was in the process of wrapping another picture two days before I was scheduled to arrive on the "North of 60" set, and I had spent the day in emergency in Toronto after having been swarmed by wasps and bitten many, many times. I was badly swollen the next day as I shot the final day of this other picture, then I was rushed to the airport to fly out to Calgary. I had also lost a great deal of weight for Brian the bushman and was feeling pretty weak. So the whole beginning of the experience was surreal.
PW: Because everyone had assumed that Brian was dead, you felt like a ghost?
RB: That was really, really eerie. It felt like a dream from which I could not awaken. Seriously.
PW: And just getting out of the emergency room after a wasp attack couldn't have helped!
RB: Yeah, I don't know if any of the swelling shows up on film because it was mostly my forearms and we had those pretty much covered up, but it was scary.
PW: How were things once you settled into the filming?
RB: Just like old times--but better. It was great to be back with the gang, and I felt a bit like the prodigal son. I also felt as though I could get away with murder, as it was the last, absolutely final time I would ever be there. And there were a lot of laughs--lots. I can't honestly remember being so comfortable on a set before or since. It was like being embraced by family. And the scenes that I got to play with all of those actors were so much fun to do I was beside myself.
PW: What did you think of your intense scenes with Tina Keeper in that movie ?
RB: If there was one person in the world I would want to work with over and over again, day in and day out, it would be Tina. She was the best acting partner I ever had, bar none. Smart, funny, committed, and focused. And did I mention that she is also drop-dead gorgeous?
PW: How about working with Peter Kelly Gaudreault? Personally, I think that confrontation in the jail between Brian and James was the best scene in the movie.
RB: Yes, the jail scene with Peter was a hoot. He is a real pro and took everything that I threw at him with grace and panache.
PW: And Tracey Cook?
RB: Working with Tracey was so much fun I never wanted our scenes to end. I did feel a tiny bit bad for her when I buried her alive as she is claustrophobic and had a hard time in that hole.
"Wind at My Back"
PW: How did your role as Jim Flett on "Wind at My Back" come about?
RB: I was at my agent's office in Toronto one day and the phone rang. It was Raymond Storey calling to find out if I was available to play a new character on "Wind at My Back." My agent told me not to take the part, but I didn't give it a second thought. That was the beginning of another three-season stint on another terrific series. This time with a much nicer character!
PW: Besides your characters being polar opposites, how was doing "Wind at My Back" different from doing Nof60?
RB: For one, we shot "Wind" in a back lot in Scarborough [northeastern Toronto]. It was a great place to work, and I was home in my own bed every night. I also got to work with a lot of old friends. And the food was wayyyy better. Not the same as being in the mountains though, that's for sure!
Other work
PW: You've done so many different roles that we can't begin to cover them all, but let me ask about a few that come to mind. "Forever Knight"?
RB: Got to play with Geraint [Wyn Davies] twice as different characters. Always a nice set to work on--though they worked a lot of nights...
PW: The Trudeau TV movies?
RB: Extraordinary miniseries both, working with the best of the best of Canadian talent--and we know that many of the best actors in history are and have been Canadians....
PW: "Jett Jackson"?
RB: "Jett" was a treat to perform. The kids were all really fun to work with, and the character they gave me was eccentric and unpredictable. Also got to work with Beyonce--one of the highlights of that show. I had no idea who she was at the time, only that she was surrounded by bodyguards and that she was one of the sweetest young people I had ever met.
PW: "Nero Wolfe"?
RB: I loved "Nero," hung out with Timothy Hutton and friends, many luminaries. Lots of fun. Got to play a different character in every episode--that was both challenging and rewarding.
PW: The TV movie "Judgment Day: The Ellie Nesler Story" must have been a difficult role, playing an accused child molester.
RB: "Judgment Day" was a tough place to go. I was satisfied with my portrayal of Danny Driver, but happy to turn down anything else that ever resembled that character.
Personal life
PW: Your official bio on the old Nof60 website said you had an "unconventional life as a world traveler." Did your family move a lot when you were growing up, or was this traveling you did after you left home?
RB: My father took a job with CIDA [Canadian International Development Agency] in Tanzania for three years, and the whole family went along. We lived in Dar es Salaam from 1970 to 1973. It was amazing. We traveled a great deal while we were there and en route there and back. I was bitten by the travel bug then and have traveled all of my life since.
ND: I see there was a Robert Bockstael who served in the Canadian House of Commons from Manitoba. Was that by chance your father or grandfather? If so, do you have any stories of growing up in a politically active family?
RB: That was my uncle Robert--the only member of the Liberal party in the west during Pierre Trudeau's last stint as prime minister. It was cool in that I got to have a couple of lunches on Parliament Hill and even got to meet Trudeau himself. I was awestruck. He remains a hero of mine. In subsequent years I appeared in both of CBC's miniseries about Trudeau--as a different character in each.
ND: Brian Fletcher was an avid fisherman. Do you enjoy angling in real life?
RB: Not really, no. Despite the fact that I live on a private lake with great bass fishing, it is not something I particularly enjoy. In the summer, my son Henry likes to fish off the dock, and he does quite well. We do have a strict catch-and-release policy, though!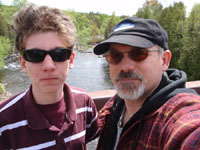 Henry and Robert Bockstael
Photo courtesy Robert Bockstael.
(Click on photo for larger image.)
PW: What are you up to these days?
RB: After 32 years of acting on stage, radio, TV, cartoons, etc. etc., I want to get on with life. With everything that has happened in the past 10 years in North America and the world, the face of TV has changed, and I don't feel as though I want to be a part of it any more. I am very happy to have had the opportunities that I did, to work with the people that I did, to travel the world doing movies, and to make a living doing so. There is barely a living to be made any more, and the material being churned out of the big money-making machines down south is, for the most part, nothing I want to be a part of.
So I have been happily retired for a year. I'm back at school studying library sciences, and I'm already a part-time librarian. I'm also raising my son Henry, who has autism, and I would resent a single day spent away from him and my wife Catherine.
We live in a gorgeous home (the house that "North of 60" built!) on 16 acres on a private lake with no road access six months of the year. I take Henry to the school bus 3 km down an old trail--six months on an ATV and the rest on a Skidoo. We haul in our own water. We do not watch television, nor do we miss it. We are healthy and extremely happy.
ND: I wonder if working on "North of 60" made people long for the bush. Both you and Michelle Thrush are living mostly "off the grid." Do you know of any other No60 actors who have tried to live in the slower lane when it comes to energy consumption and exposure to endless noise and technology?
RB: I don't know of anyone else who is quite so crazy as me, living so far away from anyone. I do know that it's almost impossible to pursue a career in show business if you are too far from civilization.
PW: Are you still in touch with your agent in case a role pops up that might entice you back into television or movies?
RB: No, my agent retired shortly after I did. That says something, though I am not sure what. I still have friends in the business who stay in touch and have asked me to go back to the theater. That's a notion that I may consider in the future. Meantime, I work at the library, study, spend time with my family, read, and hire myself out as a handyman. Life is good--and I really do owe so much of it to "North of 60."