North of 60 Interview: Randy Bradshaw
Randy Bradshaw is a founding partner of Alberta Filmworks and
a Gemini-winning director. Among the episodes of "North of 60"
he directed was the supernatural "Raven." Randy stopped by
the Nof60 set during the filming of "Another Country" and I had
a chance to talk with him for a little while.
"Raven" and "North of 60"
PW: Let's start with "Raven," because every time it airs, there's a lively discussion about it on the "North of 60" discussion list: "Was Eric imagining things?" "Can he see into other worlds?" Stuff like that. Just to recap for anyone who doesn't recall, this is the one where Eric and Michelle are out away from town, and Eric gets lost in the forest while looking for water for the truck's radiator... RB: And then Eric discovers the plane crash with the escaped convict.
PW: The plane the prisoner had stolen to make his escape. RB: Right. And then Eric gets caught in a trap--is that the one where he goes upside down?
PW: I believe so. He's hanging by his foot. RB: Right. Ben Cardinal playing Gabe had set the trap. And at this point in the story, we are led to believe that it's all in real time. And in the ensuing chase, there's the unfolding of the relationship, the backstory between Gabe and Michelle.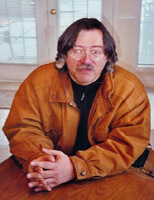 (Click on photo for larger image.)




So the wonderful spin on it, the twist to the story, comes from Joe. When he's in the car, I believe he kind of gives it away. He and Michelle are in the car, waiting overnight, wondering where Eric can be, and he says, "You know, he sees things, and he shouldn't ignore them." For me, that was a giveaway that whatever Eric's character was, that he was open enough to receive visits by spirits, and that Joe, I think, could recognize it and understand it. And of course at the very end, we realize that Gabe did not survive that plane crash, that it was just something that Eric had to go through to learn something. Now whether he learned anything, I don't know. But I think the purpose of that was so that Eric could learn something. To be okay with it that he had this ability, and to turn it around and to help the people of Lynx River.
PW: When we first meet Eric in "North of 60," he's very much an outsider. The concept of visions would be very foreign to him. "Raven" was early in the second season. Do you think this was in fact a turning point for him? RB: Oh, absolutely. Even the imagery--like in the fights that he and Gabe had--was so strong. The idea was to push Eric to his limit. To taunt him about what happened in Vancouver, the backstory that led him up here. Just to bring up all the darkness so that Eric would deal with that darkness. The story was a bit of a fantasy, but for Eric, his emotions were real.
PW: Do you think Gabe was a projection of Eric's guilt, or a real vision--if there is such a thing! When you say a vision, what do you mean by that? RB: I think that Eric was taken on a quest, and it was to help Eric. And they used Gabe's existence and whatever happened up there in the forest to help Eric get through that.
PW: When you say "they"...spirits? RB: Absolutely. It's all the mythical, animate, however you want to call the spirits. Forefathers. The raven is a spirit.
PW: Right, we should probably briefly mention that the raven is a trickster character in a lot of Native American mythology, right? RB: Yeah. But it's like, for me, where there's smoke, there's fire. It's all these things adding up for Eric were part of the reason that happened to him. The reason he didn't just walk in [to the forest to get water for the truck] and walk back to the road. It wasn't that far. But he got turned around. His world got turned around, and he couldn't get out. That was the first card played in the game of letting Eric in on the spirit road. Because he was kind of against it and a bit cynical actually of the whole thing. And as you said, it was a turning point, because it wasn't "them"--being the Native community--any more, it was him. And he was a logical guy, and that sort of thing just doesn't happen, and what the heck do you do when it does happen? I think all that resided in him, and he carried it with him.
PW: Did you direct other episodes besides "Raven"? RB: Yes, I did. "Out of the Blue" was one.
PW: Ah, the one with the Americans! In checking my list here, I also see "Birthright," the one where Ellen has her baby. "Arrangements"--that's the one after the LeBret shooting where Sarah starts getting involved with Albert. And then "Raven." Were there some others? RB: No, I think that's about it.
PW: Could you talk a bit about your involvement with the show? As a principal in Alberta Filmworks, you were in pretty much from the beginning, right? RB: Certainly being aware of what was happening, being able to read the scripts from the pilot. And "Out of the Blue" was an episode really at the top of the series. The nice thing about it was everybody was still in the moments of finding the characters, getting the feel of the show, the pace of the dialog, the pace of cutting, all of that. So it was for me a really gratifying experience, magnified immensely by the quality of the cast and crew. A close-knit cast and crew, certainly it is like a family. I think all the elements that can conspire to make a family feel good can happen on a set like this, too.
PW: So you've been closely involved with the production of the show? RB: Well, just as an invited director.

Other projects
PW: When did you and Doug McLeod and Tom Cox form Alberta Filmworks? RB: "Ray Bradbury Theater" was when we really formed the company, so it would have been mid-80s. Not all three of us will be involved in every project. So on this show, pretty much Tom and Jordy [Randall] are running it, and Doug and I are off doing other projects.
PW: So what are you up to these days? RB: Just finished a movie called "Bad Faith." Well, that was a year and a half ago. The one I just finished a couple of weeks ago was "Agent of Influence," starring Christopher Plummer. It was a true story based on the life of Canada's ambassador to Russia during the Lester Pearson years, John Watkins. He was recalled to Canada and picked up by the RCMP in Montreal and questioned for three days, and he died in their custody. And it was covered up for 18 years.
PW: Why were they questioning him? RB: They suspected him of being a spy.
PW: So obviously that would raise a lot of questions if he died in their custody. RB: Except they said he didn't die in their custody.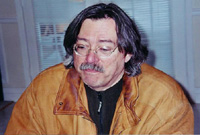 (Click on photo for larger image.)




PW: Where did they say he died? RB: With friends, at a dinner. And it took 18 years, and then the writer Ian Adams, in doing some research, recognized one of the names on Watkins' death certificate as an RCMP security agent and thought, "What the heck would that guy be doing there?" And slowly it unfolded.
PW: When did all this happen? RB: Watkins was buried in Quebec, and the Quebec government had him disinterred and did an autopsy, because if you die in police custody, the law says you're entitled to an autopsy. But [the autopsy results] were undefined. That was about five years ago. And the writer wrote a book called "Agent of Influence," and the screenplay came from that after I optioned the book.
PW: And will that be a theatrical release? RB: No, a TV movie for CTV.
PW: And "Bad Faith" has already aired? RB: Yeah.
PW: Was that on CTV also? RB: No, on A Channel, and then I think A Channel sold it to Global.
PW: So what's next in the pipeline for you? RB: We're co-producing a movie with Tapestry, an Ontario company, this fall, called "Burn: The Robert Wraight Story." Robert Wraight was the RCMP informant who was a confidant of Wiebo Ludwig, who was the rancher/farmer/Christian commune head in the Peace Country of northern Alberta who fought the oil companies because of sour gas. He became actively involved in vandalism, and there was a shooting and he was jailed for a couple of years.
PW: When does that go into production? RB: Right now we're scheduled to shoot in October.
PW: And do you have a cast for that yet? RB: No cast yet. And then the next film our company is doing on its own is "Crazy Canucks," the story of Canada's national downhill team in 1974 and 1975. With Ken Read, Dave Irwin, Dave Murray, Steve Podborski, and "Jungle" Jim Hunter.
PW: And that's for CTV, right? Sounds like you've got a good relationship going with them. RB: We do. We've done "After the Harvest" with Sam Shepherd and "The Sheldon Kennedy Story" for CTV.
PW: "The Sheldon Kennedy Story" got some Geminis, right? I'm sure it was at least nominated for some. RB: It was nominated. I think it got one.
PW: Does Alberta Filmworks have any other series under development that you can talk about? RB: We're developing--the very, very early days--a half-hour series with a very strong Internet tie. So it'd be experimental.
PW: Fiction or nonfiction? RB: Fiction. But tying in the net. It's an attempt to see how the convergence would work. There's only a story idea at this point, but I think it's a really interesting exercise to come to grips with the possibilities, how television and the Internet can work together to provide an entertaining experience.
PW: So with "Burn" and "Crazy Canucks," you're probably looking almost a year ahead already. RB: Yeah, at least a year. And, of course, another "North of 60" movie!
PW: What do you know about that? Jordy said he had a pretty confident feeling about it. RB: I don't know more than Jordy. He's been talking with the network people. You're right--he expressed great confidence that the order would come through.
PW: I think he said they would know more after the next round of funding. RB: Yep. Absolutely. The annual Canadian lottery for film and television!
PW: Best of luck on that. And thank you very much for your time, Randy. RB: Thank you.




Back to Patty's "North of 60" page





patty@wintertime.com


Text and photos (c) 2002-2005 Patricia F. Winter.

All rights reserved. For personal use only. Do not distribute to other persons by electronic or non-electronic means (including posting on a web site) without prior permission from the copyright owner.