North of 60 Interview: Jennifer Podemski



You have to wonder how Jennifer Podemski manages to
fit her life into 24-hour days. Actress, TV and film producer,
teacher, community activist--this is obviously a young
woman who's determined to make a difference.

During the filming of "Distant Drumming," "North of 60"
publicist Fran Humphreys and I had a chance to talk with
Jennifer about her projects, including her pivotal role in
"Distant Drumming" as ex-RCMP officer Marjorie Sebastian.

"Distant Drumming"
PW: From what you've seen so far, how do you like "Distant Drumming"? JP: This film is so great. I love the story so much, and I love the character, and I love the fact that I actually have a lot to offer the character from experience. Usually it takes a lot of research, but I actually know a lot about it, so it's weird.
PW: What do you mean that you know a lot about it? JP: I sit on the board of directors for the American Indian Youth Academy, out of Oregon. I worked for a couple of years with them. They put together a camp every summer for native youth from across the United States to come together with native law enforcement professionals, from cops to sheriffs to tribal police officers. It's to try to encourage kids to be aware of what their opportunities are in policing and to encourage them to police in their own communities. To understand community policing and the barriers and all those very difficult concepts when it comes to policing in an aboriginal community.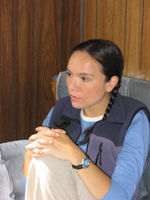 (Click on photo for larger image.)




It's interesting because I didn't read the script before I got the part. So when I read it after it was offered to me, I really freaked out!
PW: So you had no idea when you received the script that there was a storyline about community policing? JP: No, I had no idea. I knew [Marjorie] was an ex-cop, that she was into tribal policing, but I didn't know the extent of it. I really do have the background, and I work with a lot of high-risk youth and pretty much work in the community all the time. So it really does relate to me. And she's kind of a rugged, outdoorsy girl, which I can't say I am--I'm a city girl--but at the same time, that's definitely a reflection of my alter ego.
PW: Did Alberta Filmworks know that you were involved in community policing workshops when they offered you the role? JP: No, not at all. It was total coincidence.
FH: What do you think about the storyline? JP: Well, I think in general the justice system is flawed. Not just for aboriginal people. But the incarceration rates for aboriginal youth are staggering, and very upsetting. It is really systemic, I think. And I do believe that traditional ways of justice should be investigated, because obviously it's not working the way it is.
FH: Tell me in your own words about your character. JP: Marjorie is an ex-RCMP officer who has basically dedicated herself to working toward tribal policing in all native communities. Her idea of maybe going back to the old ways of justice and trying to empower the youth and really move away from the high incarceration rate. And maybe if we move back to the more traditional, more community-focused ways, we would be able to lessen the amount of native youth in jails. She comes head-to-head with Michelle. They're both strong-headed women, really good cops, but definitely at this point, in this film, sitting on either side of the fence. I do think that the thing about Marjorie is that she's still young, even though she's 30 or 27 or around there. I think that she does have a lot to learn about life in general. And maybe is a little bit cocky. And it's great because the dramatic irony affects my character's arc. It teaches her the biggest lesson. Because she is the one in the end who was wrong, very, very wrong.
[The next portion of the interview contains spoilers about what happens in "Distant Drumming."
If you have seen the movie already, click here to read that section.]
FH: How real do you think this story is? How grounded in reality? JP: Oh, I think it's very real. I love the weaving story of [click here for spoilers]. And I think that the addition of the other strong woman character is very real. And then you have the political side where Teevee has this whole agenda. His agenda could feed more off of a tribal policing initiative than an RCMP thing. But I think in the end, it just goes to show you that this whole process of healing that the community has to go through is so immense and so intense that it's just going to take a lot of patience and a lot of support. It's really, really a great script. I love it. And I love how everything really falls into place. It's a very easy film to play, too.
PW: Because of your background? JP: No, the writing is just so real. It's natural. Oftentimes you can tell when you read a script that one writer wrote all the characters. There are similarities between all of the characters that I guess are reflections of the writer. But in this film--and I think it's a habit of series, too--the characters are so defined. Like I felt the second that I read it the conflict between the two female characters--but the respect as well. And I felt the angst of George's character, Matthew. And I felt the struggle of Daniel's character. All of those are so different, the stories are so, so different. It's cool!
FH: How do you feel about getting involved with "North of 60"? JP: I was very star struck! Totally star struck. Even though I know most of these people, they're my friends, I stepped on the set, and I was like, "Holy cow, I'm in Lynx River!" And honestly, I didn't really watch the show. I don't watch a lot of television as a rule. But how could you not know "North of 60" if you're Canadian? So I followed it here and there throughout the years, but I don't really know the characters all that well. But I love working all these actors, I just love it. I love working with Tina. And George [Leach] is a longtime friend of mine. That was very cool to have my first scene with him and to have known him for a number of years.
PW: But you never acted with him before? JP: No, never acted with him, but he's one of my closest friends. And me and Dakota had our 11-year anniversary on set. We started in "The Diviners" together 11 years ago. But we had never had a scene together, either. We worked on the film together, and spent a month in Winnipeg together, but never had a scene together. So that was fun. And also, Tom Jackson played my dad in "The Diviners," so it was our 11-year anniversary as well the other day.
PW: All roads lead to Lynx River! So you didn't watch the show regularly, but you caught it occasionally? JP: Yeah. Honestly, the only show like in the last ten years that I've dedicated myself to is "Six Feet Under."

"The Rez"
PW: When was "Dance Me Outside." and then when did "The Rez" start? JP: We did "Dance Me Outside" in 1993.
PW: So that was after "North of 60" started. I'm down in the States, so I'm getting some of this peripherally, but it's pretty obvious that "North of 60" was a breakthrough series for the native community. Do you think that helped "Dance Me Outside" get made, or was that totally separate event? JP: I think they were two totally separate things. "Dance Me Outside" was the first feature film to star an entirely native cast, which was really cool. And it launched a lot of careers for a lot of us.
PW: Let's see, Adam Beach was in it... JP: Adam Beach, Ryan Black, myself, Michael Greyeyes...
PW: In the movie, or the series? Because there were some differences with the series. JP: Yeah, in the series, Darrell Dennis came in to play Frank Fencepost, and Adam Beach came in as a different character. But the series was a whole different show than "North of 60." It was light drama.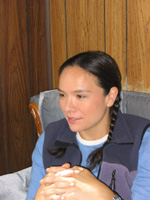 (Click on photo for larger image.)





PW: Yeah, a half-hour comedy/drama. I've seen a couple of episodes. And your sister Tamara was in it, too, right? JP: Yeah, she sure was.
PW: Looking at the listing of movies you've been in, it looks like you've been doing movies since about 1991. Let's see, "Conspiracy of Silence," that was about the murder of a young native girl? JP: Yeah, that was my first big role, my first with talking lines. I played the lead girl's sister. I had a very few scenes. I shot that in 1990, so I was 17 then.
PW: Had you been trying to get into acting for a while? JP: I've always been in performing arts. I've been in dance, musical theater, and theater performances since I was very small. So I was always acting. Mainly stage. I was in a performing arts high school at the time when I was making "Conspiracy of Silence."
PW: So the people making the film came to your high school looking for kids to be in the movie? JP: No, what happened was that I had been on television on a couple of times. My dad's good friend was a producer at CBC and brought me in because I was a figure skater many years ago, like when I was 12. I hosted a show called "Wonderstruck," which was like a youth series. CBC liked me, so I did some little vignettes, some movie reviews that I wrote myself. So I really got used to the camera in that way. But I pretty much dedicated myself to dance for many years. I became a dance major at school--modern, jazz, ballet, hip-hop, that sort of thing--with a theater minor. Then when these people from "Prom Night 3" came around taking Polaroids of people, I just happened to get my picture taken to be an extra. So really my main film set experience happened as an extra. I did that from when I was at the end of age 15 and all of age 16. I loved it. I loved being on set, I was always down by the camera, I'd talk to the director. I was really, really eager, and I decided to get an agent. I probably got about 50 people telling me no, that I looked too strange, or they already had a native person. Finally, somebody was willing to take me, and the day that I met her, she got me the "Conspiracy of Silence" audition. That's where it started happening. I did a lot of extra work just to get the experience, and I really am of the frame of mind that if you are dedicated to the industry, you should try everything on set, behind the scenes.

Recent and upcoming projects
PW: Where are you based, Jennifer? JP: Toronto.
FH: And she just got married. JP: I just got married!
FH: In Toronto? JP: I got married on my husband's reserve, Ochapowace, outside Regina. We had a traditional ceremony.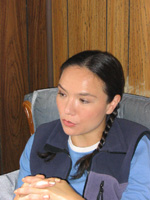 (Click on photo for larger image.)




PW: What does he do? JP: He actually works with my company, Big Soul Productions.
PW: I see you have a movie coming out called "Bar Life"? What's that about? Where was it filmed? JP: That was in Toronto. It's a film by Dawn Kuisma, a great director. My character is a student/bartender who's frustrated with life. It's basically vignettes of people's lives who are in and out of the bar. It's just what transpires over one night.
PW: Are you still doing dance or theater? JP: I've been busy with my own company for the past four years. So I've done some film and television, but not a lot. I did a show called "Bliss" that came out on Showcase.
PW: I've heard of the series. What was the name of your episode? JP: It's called "Three." That was really great, because it's totally women's erotica--written and directed by women. And I recently produced and created my own series called "Moccasin Flats," out of Regina. That's been sold to Showcase and APTN.
PW: What else has Big Soul Productions been doing? I believe George Leach said that you did his music videos? JP: Yeah, we did music videos. We did three seasons of a series called "Seventh Generation," which was sold to a number of stations in Canada--APTN, Access Alberta, Canadian Learning Television, SCN. It's kind of infotainment. Me, and my business partner, and my cameraman--well, James, my husband!--travel the country and do stories. Per season, there's 13 episodes, so like 26 people per season, who are native, under 30, and following their dream of doing really cool things. We'll profile doctors, lawyers, scientists, geologists, wrestlers, hockey players...
PW: Have you done any theater recently? JP: Not really. I'd like to get back on stage, though.
PW: When was the last time you did that? JP: I hosted this thing called FemCab in Toronto. That was a great one-night of theater where I hosted it with this great comedian called Maggie Cassella. That was my last time on stage, probably about a year ago. The last actual stage piece I did was probably five years ago. Actually, that's a lie. I was on stage last year in a piece choreographed by my sister for the National Aboriginal Achievement Awards. I was dancing again, and it was great to be on stage again. But I do a lot of teaching on theater, media, film, television, that sort of thing. All over Canada. We have a training program in my company. We bring projects into inner cities and native communities, on the rez. So a lot of that sort of thing. But I am hoping to move back to theater. I've been very, very lucky with the film projects that have come my way. I feel very blessed that they've happened. But I feel like I need to get back down to earth a little bit.
PW: Do you have any interest in writing plays? JP: Yeah, I write a lot. I have a couple of screenplays that have been in the works for a number of years. But nothing serious. I am cutting right now an eight-minute documentary that I sold to CBC on my trip to Poland with my grandfather, who's a Holocaust survivor. He took all of his granddaughters. My husband gave me a two-day crash course on the camera, so I shot it, did the sound, and now I'm doing the editing. It was really an incredible experience.
PW: Do you know how the CBC is going to use it? JP: It's going to be on "CBC Sunday" this fall. The show hosted by Evan Solomon.
PW: It must have been tough going there. JP: It was. We went with my grandfather to the place where he left his little sister when she was 13. He just intended to take her for a walk, and then the Nazis took her. And we went to the place where his mother was burned. We sat on the actual gas chamber and did a little tobacco ceremony there.
PW: Which concentration camp was that? JP: It's called Chelmno.
PW: Was your grandfather there, too? JP: No, it was strictly an extermination camp. Anyone who went there was burned right away. He was taken to Auschwitz, Birkenau, and a couple other camps. He eventually ended up in Bergen-Belsen, where he was liberated. Bergen-Belsen's in Germany, so we never actually went there. But we did go to Auschwitz. We went to Majdanek, too.
PW: And he never saw his little sister again? JP: No.
PW: And his parents? JP: His father had died when he was younger, but his mom was also taken away. So it's going to be an intense story, but I really enjoy that kind of filmmaking. I really, really want to work very hard on it and make it the best that I can make it.




Back to Patty's "North of 60" page





patty@wintertime.com


Text and photos (c) 2003-2005 Patricia F. Winter.

All rights reserved. For personal use only. Do not distribute to other persons by electronic or non-electronic means (including posting on a web site) without prior permission from the copyright owner.