"North of 60" Night at AIFF 2004

Here's a brief report and a couple of photos from the
night that "Distant Drumming" was shown at the 2004
American Indian Film Festival in San Francisco.



Friday night's screenings were held in the theater at the Palace of Fine Arts. (The 1915 Panama Pacific Exposition building that also houses the Exploratorium. You've seen it in many movies and TV shows over the years, including "Vertigo.") George Leach introduced "Distant Drumming." He briefly described the backstory between his character (Matthew Fowler) and Teevee Tenia that we saw in "Another Country." Then he said, "I was very honored and very excited to be part of 'North of 60.' [It] really inspired me to get up and do what I do. It was also my father's favorite show."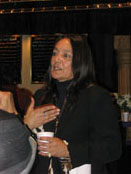 (Click on photo for larger image.)




I estimated that there were about 300 people in the theater for the screening of the movie, and it was very well received. My friend Sue and I both thought it was excellent. I was especially blown away by the storyline involving Lorne Cardinal's character, Daniel Deela. He deserves a Gemini for it, really. Although Tina Keeper wasn't in attendance at the beginning of the movie, I knew that she was supposed to be there, so Sue and I decided to look for her when the movie ended. We were also hoping that Gordon Tootoosis might be there, even though he didn't have a film showing that night. We knew he was in town, though. And I was hoping I might have a chance to say hello to George, whom I had interviewed during the filming of "Distant Drumming." Almost as soon as we walked out the doors of the theater, I spotted Tantoo Cardinal and Tina Keeper talking with some people. Tina spotted me and we said hi, then she said she was going outside for a few minutes and would catch up with me later. When Tantoo finished talking with the people, I went up and introduced myself and asked her to autograph my festival program, which she graciously did. I also managed to get one decent photo of her in between people walking in front of me just as the shutter went off. :-)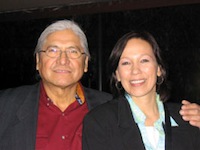 (Click on photo for larger image.)




Ms. Cardinal had mentioned that Gordon Tootoosis should be around somewhere, so Sue and I looked around the entire lobby but didn't see him. We decided to go outside to look for Tina. Well, come to find out, she and Mr. Tootoosis were both there, as was George. I asked Tina to introduce us to Mr. Tootoosis, which she did. (She didn't realize that I had never met him; my brief visit to the set of "Dream Storm" was after he had completed his scenes.) Sue and I had a very nice chat with both of them. I mentioned to Tina how impressed I was with Lorne Cardinal's performance in "Distant Drumming," and she said that during the scene in the RCMP office, she and Tom Jackson and Jennifer Podemski were all crying. I can believe it. She had to go back inside, so we said goobye to her and talked for a few more minutes with Mr. Tootoosis. He's in the second 13 episodes of "Shoebox Zoo," a children's series currently airing on CBC. (I think the Alberta episodes should be starting soon.) He's also making quite a few trips to Los Angeles to do various projects, including voice work for an upcoming animated movie called "Open Season." He plays a sheriff (and I think maybe some other characters), and he mentioned that Gary Sinise will also be in the film. So, as should be obvious, Sue and I had a great time at the festival. And as far as I know, we were part of a bit of history. I don't think any Nof60 movies have ever aired at a film festival before. And I'm sure this is the first time that one has been shown in the U.S. before it's aired in Canada! I also wonder whether there have ever been that many people watching a Nof60 movie at once. It was all very exciting!




Back to Patty's "North of 60" page





patty@wintertime.com


Text and photos (c) 2004 Patricia F. Winter, except as noted.

All rights reserved. For personal use only. Do not distribute to other persons by electronic or non-electronic means (including posting on a web site) without prior permission from the copyright owner.