Day 1 (Wednesday, October 3)
A little background on this trip: last April, I attended a birthday party for William Shakespeare hosted by the Shady Shakespeare Theatre Company. Shady Shakes is a fine troupe that puts on summer shows in a lovely redwood park near San Jose, California. For no particular reason other than that (almost) everyone likes Disney, the raffle prize at the party was a basket of Disney goodies: a beach towel, a couple of insulated water bottles, some kids' toy cameras--and four one-day hopper passes to the Disneyland Resort (DLR). You can imagine how excited I was when I won the raffle! My last trip to DL was in 2010, so I'd been itching for another visit--especially with the brand-new Cars Land about to open. In fact, I hadn't seen any of the much-awaited renovation of the Disney California Adventure (DCA) park.
Fast-forward to early October, and I'm winging my way to Orange County. Not quite on schedule; fog at the OC Airport caused us to sit at the gate in San Jose for two hours. But the Southwest folks opened the door and passengers were free to wander in and out of the terminal, so at least we weren't trapped on the plane.
I had hoped to be at the parks when they opened at 10:00 a.m. so that I could get into Radiator Springs Racers (DCA's equivalent of Test Track) early in the day, but of course the flight delay scotched that idea. After dropping my luggage at the Candy Cane Inn and taking their shuttle to the DLR, I finally got to RSR about 11:50. It has a single-rider line, so I took that option and was in a car in 30 minutes, 1/3 the time of the standby wait.
Kudos to the Disney folks for two things that brought some relief from the heat in this queue. (Temps had been in triple digits in Anaheim just a couple of days before I arrived, and were still in the high 80s today.) The first helpful thing is that most of the queue for RSR is under bridges and other themed architectural features that provide shade. The other is that during hot times, a CM is stationed between the queue lines with a cold-drinks cart.
Radiator Springs Racers is great fun. The theming is wonderful, and having the fast part done as a race against another car adds to the excitement. I think it's now one of the best attractions at the DLR!
On the recommendation of friends, I decided to have lunch at Pacific Garden Grill, which of course was on the completely other side of DCA from my current location. On my way through Paradise Pier, I passed Ariel's Undersea Adventure, another item on my "to do" list because it wasn't there last time I was at Disneyland. The posted wait time was only 5 minutes, so in I went. "The Little Mermaid" is my favorite of the modern Disney films, so I enjoyed the ride. It isn't up there in the ranks of the classic Disney dark rides such as Pirates of the Caribbean and the Haunted Mansion, but it's nicely done.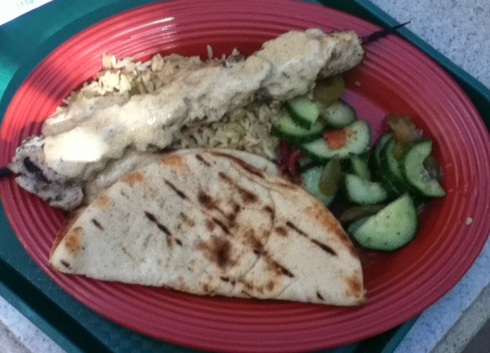 It was definitely past lunchtime by this point, so I went directly to Pacific Garden Grill for some Mediterranean skewers. I chose the Lemon-Oregano Chicken with Tandoori-Spiced Yogurt sauce; you can mix and match four skewer options and four sauce options. They all come with rice pilaf, cucumber salad, and pita bread. While not the best-ever Greek food I've had, it was very acceptable, and I really appreciated having such a healthy dining choice available. (DCA actually has a number of really good food options, and I think Disneyland has been getting better, too.)
Because I'd gotten up much earlier than usual to catch the plane (had I known about the delay, I would have slept in!), and also lost sleep on Tuesday night because there was a mosquito in my room, I was running out of energy by this time. I decided to go back to the Candy Cane Inn, get settled in my room, and rest for a while. I did that and then returned to the parks around 6:00 p.m.
"Captain EO" is another attraction that was "new" since my last visit. Of course I'd seen it when it first opened in the 1980s, but had been looking forward to seeing it again after it reopened in 2010. I was never much of a Michael Jackson fan, but I find this movie delightful. So upon returning to the DLR, I walked back to Tomorrowland and caught the show. FYI, there's a several-minute preshow in the waiting area that talks about the original creation of the film. Then I took the Disneyland Railroad through the Grand Canyon and Primeval World (dinosaurs!) to New Orleans Square.
Haunted Mansion Holiday opened for the 2012 season a couple of weeks ago, definitely a not-to-be-missed attraction. When they first did this "Nightmare Before Christmas" overlay 11 years ago, I assumed they would toss a few Jack Skellington figures into HM and call it a day. Hah! What was I thinking?? This is Disney, after all. It's a substantial makeover of both the visual and audio elements of HM, and it's a lot of fun.
By this time I was hungry again, so I swung into the French Market for corn chowder in a sourdough bowl. As I was eating on the terrace, I heard an announcement that Disneyland was closing for the evening. Oops, that meant the World of Color water show would be starting in 15 minutes at DCA! I finished my chowder and speed-walked out of the park and over to DCA. That park had also officially closed, but CMs were letting people in to watch WoC. I hustled myself to Paradise Bay and found a spot on the bridge just a few minutes before the show started.
WoC is technically a very impressive show, what with its towering jets of water, dazzling lasers, fire shooting from the water, and the use of both water screens and California Screamin' for projections. But there's no real story and no live performers, and all the music (except for a little at the beginning and end) is from existing Disney movies. In other words, it ain't Fantasmic. I'm glad I saw it, but won't be making an effort to do so on future trips.
The parks were now closed, so after WoC ended, I walked back to the CCI to watch a little TV, then went to bed early.

Back to Patty's Disney page