Day 3 (Sunday, Sept. 17)
(Click on any image to see a larger version of the photo.)



Race day had arrived! I went downstairs just before 6:00 a.m. The sky was starting to brighten, but I could still see Venus below a waning moon in the east.

The first racers--the wheelchair entrants--arrived at 6:02. The first runner went by about 6:05. I wasn't sure exactly when anyone I knew would arrive, because of course different people were in different starting groups, and it would take 15-20 minutes for everyone to leave the starting line.

Lee and Laura came trotting by about 10 or 15 minutes later. I had told them to stay to the left as they turned off Katella onto Harbor so that they would go right past the Candy Cane Inn. They did, so it was easy for me to spot them. There were only a few people standing on the curb outside the Candy Cane, so it was easy for them to see me, too. I shouted out encouragement to them and waited for Meg and Lloyd to arrive. Lloyd came by about 6:30, and Meg a couple of minutes later. They also made sure to be near the Candy Cane, and Meg even dropped into a walk for a while, so I was able to get nice photos of both of them.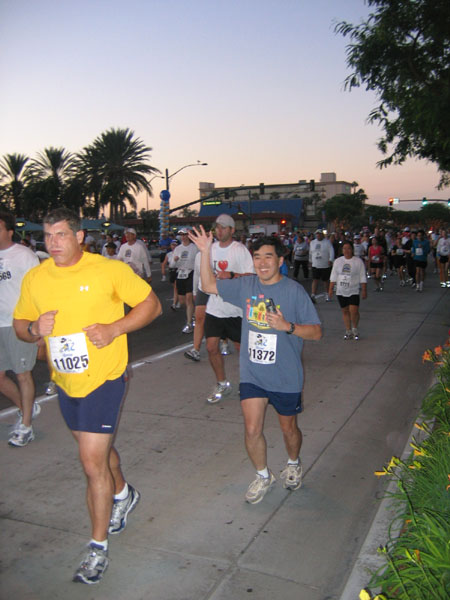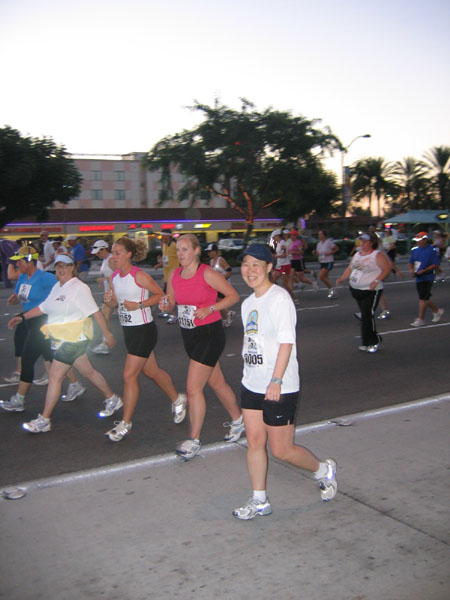 The last runners--and the "sweeper" race staff on bicycles--went by about 6:40, so I headed back to my room after that, downloaded the morning's photos into my PowerBook, and emailed the ones of Meg and Lloyd to the gang. About 8:00 a.m., I picked up some toast and fruit at the hotel's breakfast buffet and took them up the street to Disney Way, where the runners were reentering the Disneyland complex. I only stayed there for about 15 minutes, but it turned out to be good timing to see Laura and Lee again, into the last mile of their run. I was right near some Disney employees who were keeping an eye on things as the racers came back onto Disney property, and they were giving the runners great encouragement, clapping continuously and telling them that there was a water stop just inside DCA.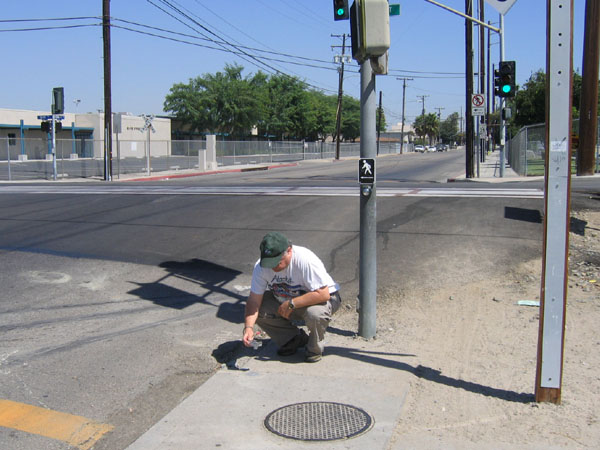 I got back to the Candy Cane a little after 8:30, then headed over to Disneyland at 10:00. Our plan was to meet up with Meg and Lloyd at the family reunion area near the finish line, but just before I got there, I saw them with Nick walking toward me. We up to Meg and Lloyd's room at the Disneyland Hotel to see what it was like and chat for a few minutes. They were housed in the main tower, overlooking the Neverland pool. Both of them were sporting the castle-shaped medallions they had earned for completing the half marathon. And they weren't nearly as tired as I expected them to be!
Nick wanted to do some benchmark hunting while he was in Southern California, so he and I had made plans to meet up with Larry at noon at the big statue of Mickey Mouse outside the main entrance of the hotel. We went downstairs just before noon, and Larry arrived shortly thereafter. After getting some fast-food lunch, we set out on a very successful expedition, finding seven marks in a couple of hours.
Larry drove us back to the Mickey & Friends parking structure (which is huge). I took a few photos toward Disneyland, where we could see Toontown, the Big Thunder Ranch stables, and behind the park, the Team Disney Anaheim building.
We then took the tram to Disneyland and headed for New Orleans Square, where we had a 4:00 reservation for the Blue Bayou. We ran across the new pirate singers and stopped to listen to them for a while. They performed "It's a Small World," "Part of Your World," and other traditional sea chanties. :-) Of course, every so often they broke into a hearty chorus (with audience singalong) of "A Pirate's Life for Me."
We walked over to the Blue Bayou just before 4:00. Meg and Lloyd were already there. Julie was busy at home, so she wouldn't be joining us tonight. We had hoped that arriving early for dinner would give us a good chance of getting a waterside table, but because the restaurant doesn't close between lunch and dinner--they just change menus at 4:00 p.m.--it was still full of lunch guests.
We were told it would be about a one-hour wait for a waterside table, so we deferred on that. We were seated about 10 minutes later at a table most of the way back from the water. Although we couldn't see the boats, we could still enjoy the nighttime atmosphere.
Meg and Lloyd, celebrating their successful runs this morning, ordered prime rib. Nick got the Tesora Island Chicken. (There's a particularly strong PotC theme at the Blue Bayou right now; more on that in a moment). Larry chose the jambalaya. And I went for the beef short ribs in a zinfandel demi-glaze. The current Blue Bayou menus honor the second PotC movie, "Dead Man's Chest." (The movie had its world premiere at Disneyland in June, with a red carpet that ran the length of Main Street.) The feature photos of Jack Sparrow and Davy Jones, and diners are invited to keep them as souvenirs. So that was a fun surprise.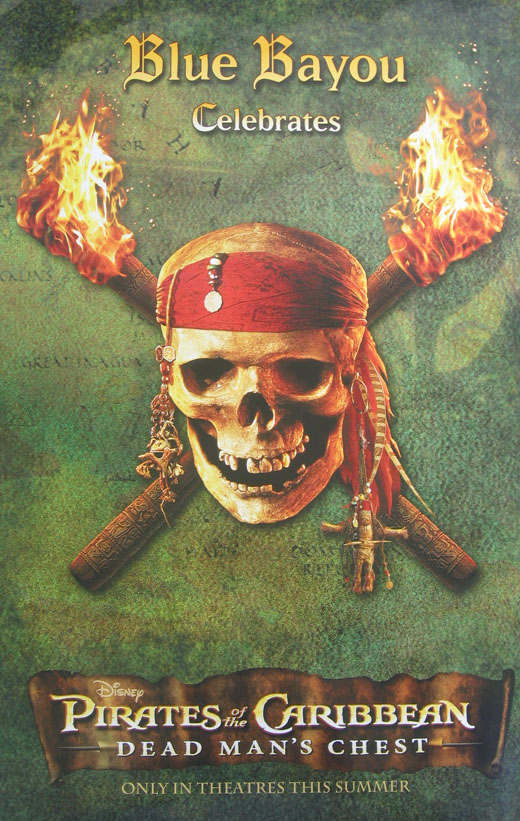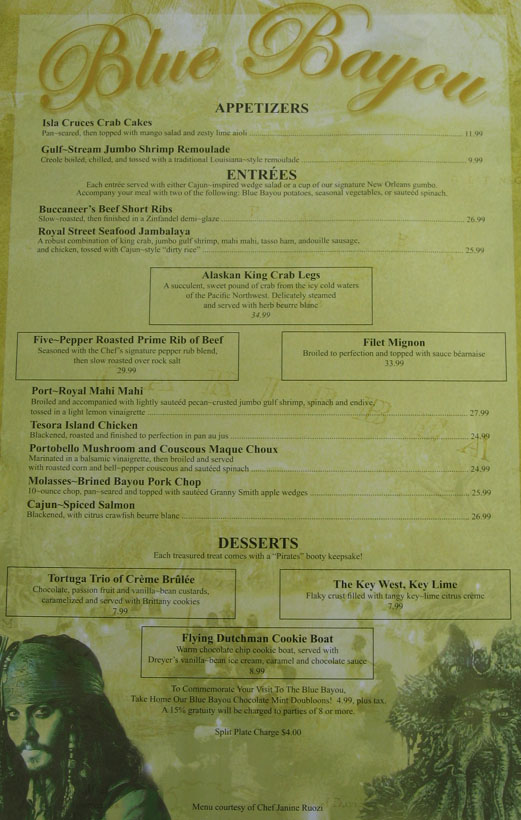 We all enjoyed our entrees, then a few of us decided to split the "Tortuga Trio of Crème Brûlée." I think you'll recognize the familiar shape formed by the one large and two small round brûlée cups. :-) I went for the passion fruit custard. (Passion fruit is known in Hawai`i as lilikoi, and it's one of my favorite tropical fruits. I always seek out lilikoi sherbet when I'm in the islands.) Meg took the chocolate one, and Nick had the vanilla bean. Yummm...delicious!
The trio of custards was accompanied by a sugar "dead man's chest," and because I had instigated the dessert order, I got possession of it. Meg and Lloyd agreed to take it home for me, since they're driving and can protect it better than I could in my airplane carry-on or checked baggage.
Another surprise came when the waitress brought the credit-card receipt for Larry to sign. He had kindly agreed to put the whole tab on his card so that we could take advantage of his Premium Annual Pass discount of 15%. (As a Deluxe AP holder, my discount is only 10%.) The traditional Blue Bayou "gold medallions" (chocolate coins) that the waitress brought weren't a surprise, but the "Five Decades of Disney Dining" pins were.
This turned out to be an AP-exclusive pin series, and the final pin--the one we received--had just been issued that morning. It was Goofy in an astronaut suit celebrating the old Redd Rockett's Pizza Port at Tomorrowland.
The pin was in a pretty box that had a map of the original Disneyland layout on the outside. It was very nice of the Disneyland folks to give these to everyone who dined in the AP holder's party. Or maybe it was because we had each spent over the $30 minimum to qualify for one! In any event, it was a pleasant surprise.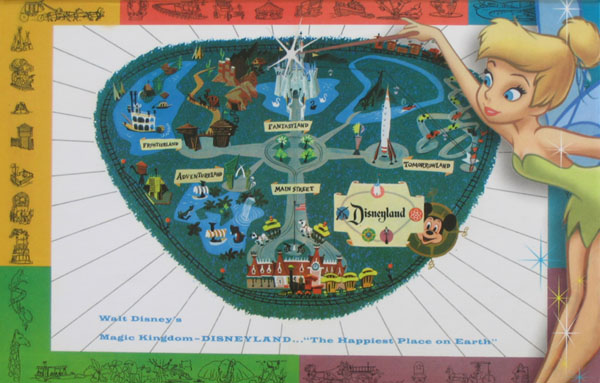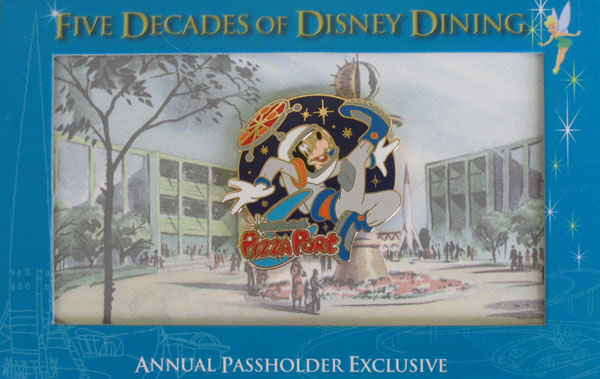 Tonight's plan was to watch Fantasmic. But since it was still early and some of the gang hadn't been on Pirates yet, we did that first. Then Meg and Lloyd put down their blanket almost on the edge of the river, right in front of where the center water screen would appear. It was only 6:15, nearly three hours before the show, but they were content to hang out there (or take turns wandering around a little bit) while the rest of us went in search of rides. Nick wanted to focus his Disneyland time on things that weren't available in Florida, so we went on the Indiana Jones ride, then walked over to Fantasyland and did Mr. Toad's Wild Ride. Nick wanted to see Toontown, so we headed back that way. There was no line for Small World and I tried to get Larry and Nick to go on that, which prompted Nick to ask what he'd done to offend me. :-) Pfeh, grown-ups!
After we circled Toontown, Larry decided to call it a night and head home. I suggested to Nick that we check out the situation with the Storybook Land Canal Boats, because they don't exist at Disney World. Unfortunately, when we got there, the gates were closed. We checked with CM Pat, who was working the ride, and she said the ride was stopped because the evening parade was about to go by. I guess they want to make sure there are no bottlenecks from people lining up for the ride as other people are trying to get past on the walkway behind the parade route. Anyway, she said to wait nearby, outside the mandatory "keep walking" zone, and she'd let us know when she was opening the ride again.
Sure enough, Pat signaled us as the last float was passing, so we walked into the Canal Boats queue and were in the first boat to leave after the parade. The ride is kind of fun, and the miniature plants are very impressive. Of course, they don't show up as well at night, but the lighting in the miniature buildings and paths is cute. (And everything has adorable little Christmas decorations at that time of the year.)
I suggested to Nick that he ride again in the daytime if he could, since it would give him better views of the quilt formed from miniature plants. (Nick commented on the one problem with the ride, which is that the full-scale ducks that like to hang out in and on the shores of the canal dwarf the miniature castles and houses of the ride. I told him that one time when I was on the ride, the guide mentioned that they were trying to find a way to miniaturize the ducks, but that they hadn't had any luck yet! :-) )
We returned to New Orleans Square about 8:00, and sat and chatted with Meg and Lloyd until Fantasmic started. After all these years, I never get tired of this show. It's ever so much better than the version at Walt Disney World. Yes, finding a place to watch it can be a hassle; there's certainly that advantage to the bleachers at WDW. But you're up closer to the action here, I like the storyline better--and, we've got real ships!