Day 2 (Monday, Nov. 28)
Disneyland Early Entry
PUSH, the talking trashcan
Reindeer and national turkeys
Parade of Dreams
Dinner at the Napa Rose
(Click on any image to see a larger version of the photo.)



I didn't set an alarm or request a wake-up call this morning, and awoke just before 8:00. Today was an Early Entry day for guests of the Disney-owned hotels, but because I knew that the crowds would be pretty light at this time of the year, I wasn't in a rush to be there right at 9:00. After lying in bed for a while listening to "Morning Edition," I got up and took a daylight view out my window.

I discovered that the monorail line was right below me, a few floors below. It goes between buildings of the hotel and past the convention center before turning into Downtown Disney. (That's the Disneyland hotel facing towards me with the blue design on the top floor. The hotel edge-on at the left is the Paradise Pier.)

Finally, I got dressed, then went downstairs and out to Downtown Disney. I walked to the monorail station, getting on a train about 9:30. The station has a very pretty design, with a roof that looks like overlapped leaves, and beautiful landscaping below (such as some yellow double hibiscus flowers).

We arrived at the Tomorrowland station a few minutes later. I hadn't been on the monorail since DCA was built, so I asked one of the monorail CMs if I could stay on the train and ride back to Downtown Disney through DCA and the Grand Californian. He said that everyone is supposed to get off at Tomorrowland, but that I could stay on this time. So on we went a few minutes later, after the new passengers had boarded. It was fun going across the Golden Gate Bridge on a monorail (wouldn't that be a great experience in real life!). As we went through the Grand Californian, I saw a very satisfied looking calico cat curled up in a sunny spot between the buildings. I wonder whether he gets leftovers from the Napa Rose. :-)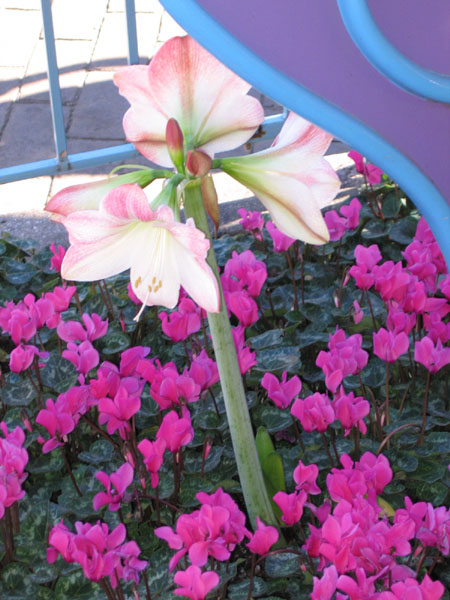 I arrived back in Tomorrowland about 9:50 and got off the monorail. Early Entry was almost over, but I managed to do Mr. Toad's Wild Ride, Alice in Wonderland, and the Matterhorn before the crowds started building up. As always, the extra touches make Disney's amusement parks special, such as the pink cyclamen, amaryllis, and camellias outside the heavy-on-the-pink Alice ride.
By now, I was more than ready for breakfast, so I got a yogurt, fruit, and granola parfait at Club Buzz in Tomorrowland while watching people on the Matterhorn bobsleds. I then left Club Buzz to fulfill one of my goals for this trip: seeing PUSH, the talking trashcan. But I got distracted looking for survey marks around the recently renovated back area of Tomorrowland, and when I found myself at the train station, I decided it was time for a visit to the Grand Canyon and Primeval World. I hope Disney never removes this part of the train ride, unless they think of something even more inventive to replace it with. It's old, it's hokey, and it's great fun.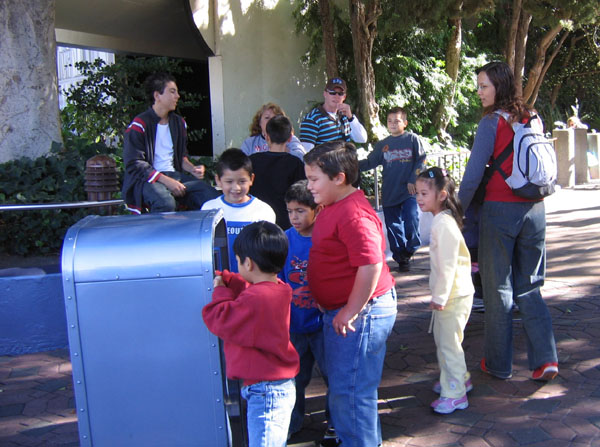 After riding the train completely around Disneyland, I arrived back in Tomorrowland about 11:30. Back to my search for PUSH! I had been told that he often hangs out in front of the Buzz Lightyear attraction, so I went there and asked a CM who was straightening up the stroller area if he knew where and when I might find PUSH. He hadn't seen PUSH recently, but gestured to show me the extent of PUSH's territory (between two sets of doors to the backstage area). He then very kindly offered to go and get PUSH's appearance schedule. (PUSH is listed on the schedule that CMs get, but not on the public Times Guide for the park.) When he returned and rattled off the times, I realized that PUSH might still be doing his 11:30 show. I headed off toward the Astro Orbiters, veering to the castle side of the ride, then as I walked around toward the Plaza Inn, I spotted PUSH in the middle of a small crowd of children and adults.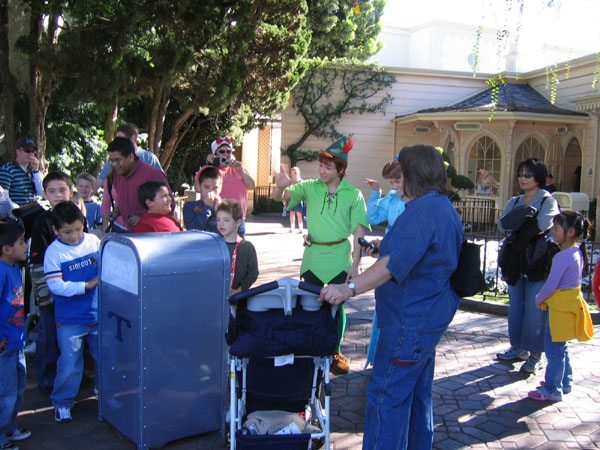 I walked over and watched the rest of his show (about 10 minutes). Mostly he was interacting with the kids, talking to them, asking their names, turning back and fro and rolling around them, but he also said hello to a group of attractive young women. Also, because he was near a backstage entrance, various Disney characters came by. Peter Pan and Wendy Darling came by, then Snow White and Cinderella. All of them said hi to PUSH, and some of them even gave him a hug.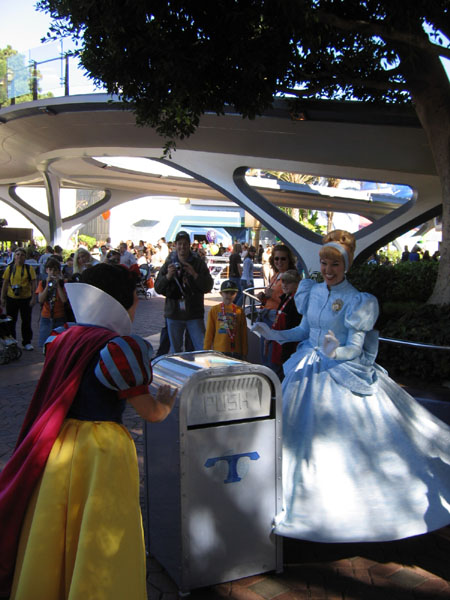 During all of this, I was paying as much attention to PUSH's CM as I was to the trashcan himself. I was surprised how easy it was to spot the CM controlling PUSH, and even more surprised that he was making no attempt to hide the microphone in his left hand or the cable leading to it. His right hand was in a large shoulder bag that obviously holds the controls for PUSH's movements. I had expected PUSH's controller to be wearing a long-sleeve shirt to hide the cable, and to disguise the movements that brought the microphone to his mouth. (You can see him in my first photo of PUSH with the kids.) My friend Larry pointed out to me later that the CM was probably so easy to spot because the crowd was small, and indeed, the next time I saw PUSH, the CM running him that day was better hidden by onlookers.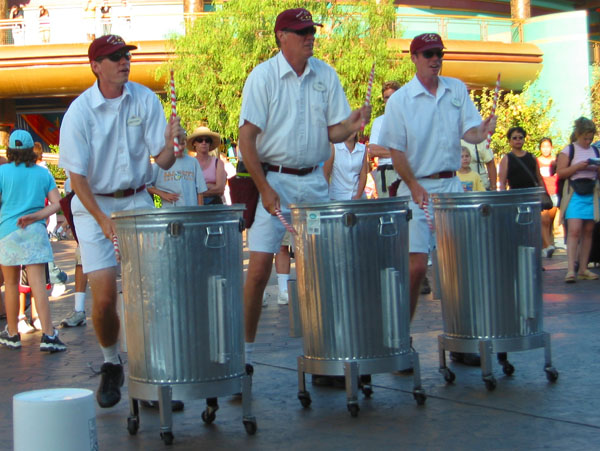 Copyright 2004 Larry Klementowski

Speaking of trashcans, as I walked back through Tomorrowland towards Fantasyland, I encounted the Trash Can Trio, one of several musical groups you'll find on the streets of Disneyland.

By now it was nearly noon. Because I'd had a late breakfast, I wasn't very hungry yet. But I had had my eye out for some cotton candy, so when I spotted a cart selling some near It's a Small World, I bought one and sat down for a few minutes to eat it. I then went on IASW--again, a walk-on--to enjoy the holiday theming of that ride.

Then it was off to the Big Thunder Trail to see some special inhabitants of the Big Thunder Ranch, which had been closed when I went by it on Sunday night. Santa loaned Disney a small herd of reindeer for the holidays, and they're very pretty.

Also in residence were the 2005 national turkeys, Marshmallow and Yam. You may have seen Marshmallow on newscasts just before Thanksgiving when the president "pardoned" him. I can certainly see how he got his name; he's big and round and white. Yam, his colleague, is a bit smaller, but not much.

Marshmallow and Yam were in a pen behind a sign that said "The Happiest Turkey on Earth." Wow, everyone's getting into the theme of the 50th Anniversary celebration! I almost made a comment to a CM about how Marshmallow was the first turkey I'd ever seen on C-SPAN, but then I realized that might be too much of a straight line. :-)

After watching the turkeys for a few minutes, I continued on the Big Thunder Trail to Frontierland, where I browsed the shops for a little while. Then I headed over to Adventureland to one of my favorite eating spots at Disneyland, the Bengal Barbeque. I didn't think I could eat both chicken and vegetable skewers, so I only got chicken. But when I went back to Frontierland and dropped into the Rancho del Zocalo to see what they had for future reference, I spotted tortilla soup on the menu and ordered one right then and there to get some vegetables into me. I sat out on the restaurant's patio, near some of their beautiful bougainvillea (have I mentioned that Disney does great landscaping?), and worked on the list of gifts I wanted to buy during my trip.

When I finished my tortilla soup and left the Zocalo, I noticed that the Mark Twain was just unloading at the Frontierland dock, so I walked over and got a spot near the front of the line to board. I ended up with a chair on the port side of the bow. As the ship was loading, I was able to enjoy several minutes of a skit by the Laughing Stock Company troupe in front of the Golden Horseshoe. They had dragooned three men from the onlookers, and a "bride" (one of the improv guys in drag) was asking them questions to decide which one to marry. Great fun. The ride on the Mark Twain around Rivers of America was, of course, very relaxing. I spotted a couple different kinds of egrets standing under the Hungry Bear restaurant, along with dozens of ducks.

After I debarked from the Mark Twain, I puttered around New Orleans Square and Main Street doing some window shopping. My friends Larry and Julie had offered to let me buy some souvenirs using their AP discount, so I was taking notes about what I wanted to buy on Tuesday when Larry would be back.

By now it was 3:30 p.m., and I decided to stake out a place on Main Street for the Parade of Dreams at 4:30. I was much earlier than I needed to be with such small crowds, but I really had nothing else I wanted to do, so sitting on a bench near the big Christmas tree (with a 50th Anniversary logo tree-topper) watching people go by and listening to the Main Street Band didn't seem like such a bad way to pass an hour. I spent some time chatting with Garrett, a nice CM who was supposed to be opening a churro cart for the evening on the train station side of Town Square, but there was a problem with the power cord, so he didn't have anything to do until the electrician arrived and fixed it.

The parade was nice. It has several floats, each devoted to the characters from one of Disney's films. This is one of those parades where the floats stop for a few minutes so that the people on and around it can put on a little show. I was near the Alice in Wonderland float. The final float has a bunch of princesses, plus Mickey and Minnie.

When the parade ended, I popped into DCA for a few minutes to get a couple of souvenirs from the Tower of Terror. I had decided not to buy the photo of our elevator car the day before (the photo is taken before the drop, so I didn't look at all scared), but I wanted some souvenir of the experience. I decided on a pin and an "I Survived" t-shirt.

Then it was back to my room at the Grand Californian to change my clothes for an event I'd been anticipating eagerly: dinner at the Napa Rose. I had discovered at Walt Disney World last year that something really fun to do when dining by myself was to sit at the chefs' counter, so I wanted to try the one at this highly praised restaurant.

The experience did not disappoint. Not only was the food wonderful, but my waiter (Michael), the head chef for the evening (Michael Rossi), the sous chef (Francisco), and the food expediters (Aaron, Nico, and Becca) really made me feel welcome. Except for occasional rushes, it wasn't a very busy evening, so I had plenty of time to chat with them and ask them questions. Of course, I was also able to observe the organized chaos of the open kitchen, from the appetizer and salad preparers at the far left to the dessert specialists at the far right.

I decided to try the Vintner's Table, a four-course meal ($75) that's changed weekly to highlight seasonal offerings. The Vintner's Table menu for the night I was there consisted of crab and citrus salad, tortellini, beef filet, and pumpkin bread pudding. (Click on the image at right to see the delicious details.)

Are you salivating yet? ;-) Oh, and before all that came a little palate cleanser of rock scallops with endive and avocado mousse, plus a tasty selection of flat and yeasted breads (lavosh with herbs and parmesan, a sourdough roll, olive bread, and bread with sun-dried tomatoes). Because I'm not a big wine drinker, I decided against getting the optional flight of four wines that can accompany the Vintner's Table. Instead, I consulted with my waiter and ordered a glass of 2003 Jade Mountain Mouvèdre, which comes from the San Joaquin Delta area of Northern California. Because we also discussed the 2003 Biale Vinyards Petite Sirah that was part of the wine flight, Michael kindly brought me a sample of it to compare with the Mouvèdre.

As you can probably tell just by reading the descriptions, each course of the meal was delicious. And when I got to the dessert, a scrumptious bread pudding, Michael surprised me with a taste of the ice wine that was also part of the wine flight. Oh my, it was like nectar! Coincidentally, my first experience with ice wine was almost exactly a year previously at Walt Disney World. I had a glass of Inniskillin ice wine at the end of a delicious lunch at Le Cellier, the restaurant at the Canadian pavilion at Epcot. The one at Napa Rose was from the Kiona Winery in Washington State. As the name implies, ice wines are made from grapes that are allowed to freeze on the vine, which turns the water in the grapes to ice, leaving behind the sugars. No wonder they are so very, very sweet.

I don't seem to have any notes for Monday night after "Kiona Red Mt. Chenin Blanc 2004 Ice Wine." That may not be a coincidence. ;-) As I recall, I had thought about going to see the fireworks at Disneyland after dinner. But as you can imagine, I was in no hurry to rush through such a special meal, so I ended up staying until after the fireworks had started. Also, I was scheduled to take a walking tour of Disneyland the next morning, so I didn't want to stay up too late. Instead, I went back to my room (carrying a small Napa Rose logo'd box of candies that Michael had given me just before I left), took a hot bath, relaxed for the rest of the evening, and went to bed by a reasonable time.